Iran blasts Supreme Court's ruling on terror victims, threatens to sue US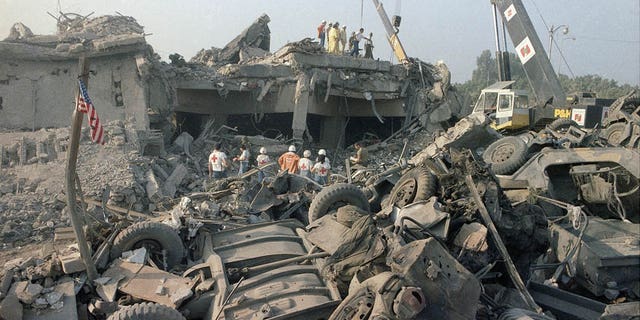 NEWYou can now listen to Fox News articles!
An Iranian foreign adviser Tuesday blasted the Supreme Court's ruling to permit families of victims of attacks linked to Iran to collect nearly $2 billion in frozen funds, as the Islamic Republic threatened to take the U.S. to the International Court of Justice at the Hague.
Ali Akbar Velayati, a foreign adviser to Iran's Supreme Leader, described last week's court ruling as an act of robbery, the official IRNA news agency reported.
"Iran is insistent on safeguarding its rights and will retrieve the money," Velayati was quoted as saying. "The way to confront Americans is to resist their ambitions."
The report also said Iran's foreign ministry summoned Switzerland's ambassador to Tehran over the Supreme Court's decision, to convey Iran's protest to the Americans.
Iran and the U.S. have not had diplomatic relations since 1979, when Iranian students stormed the embassy and took 52 Americans hostage for 444 days.
The Supreme Court's decision permits the families of victims of a 1983 bombing in Lebanon and other attacks linked to Iran to collect nearly $2 billion of frozen funds from the Islamic Republic.
The cabinet has tasked a workgroup, led by the Iranian finance minister, to examine the court decision and reclaim Iran's "rights," IRNA reported. The ministers of foreign affairs and the heads of the intelligence agency, judiciary and central bank have joined the workgroup.
Iran said the court decision violated international obligations between the two countries, including a 1955 economic treaty, and on Monday threatened to sue the U.S.
Iran has repeatedly denied responsibility for the attacks and has accused the U.S. of using them as an excuse to steal their money, The New York Times reports.
"We hold the U.S. administration responsible for preservation of Iranian funds, and if they are plundered, we will lodge a complaint with the I.C.J. for reparation," Iran's foreign minister, Mohammad Javad Zarif, said Monday in Tehran.
It's unclear if the court's jurisdiction would be accepted in such a case. The U.S. stopped following the court's jurisdiction after losing a case in 1986 about intervention in Nicaragua.
Other experts also said Iran may be calling a bluff, as it would not let the ruling sabotage a deal over its nuclear program that unfroze billions of dollars of Iranian money abroad and eased sanctions.
"The ruling will further chill Iran-U.S. relations, but Tehran still wins a ton from the deal and isn't about to split," Cliff Kupchan, chairman of the Eurasia Group, a Washington-based political risk consulting firm, told The New York Times.
The Associated Press contributed to this report.