Iran announces indictments against US citizen, legal resident, 2 others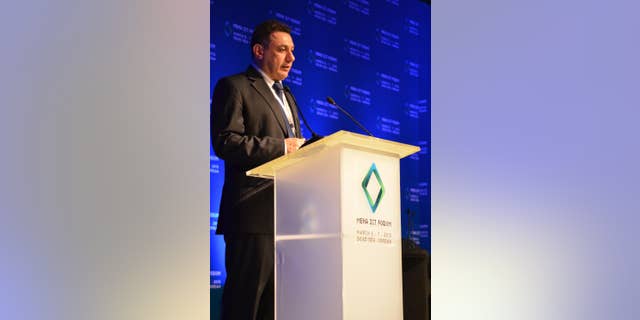 Iran announced indictments Monday against four people including an American with dual citizenship and a U.S. permanent resident, prompting a rebuke from the State Department.
"If the reports are true, both are being unjustly detained and should be released as soon as possible," spokesman John Kirby responded.
The four individuals are believed to have been detained by Iran's paramilitary Revolutionary Guard, a force charged with ensuring the country's Islamic government remains in power. The announcement came months after the U.S. and other world powers reached a deal with Iran over its secretive nuclear program.
The charges the four face remain unclear, though the husband of one of them said his family was told by the Guard that she would be released if the British government agreed to their demands, suggesting they may be pawns in a negotiation yet to come.
Iran's official judiciary news agency Mizan quoted Tehran's prosecutor, Abbas Jafari Dowlatabadi, naming the four charged as:
-- Siamak Namazi, an Iranian-American businessman who has advocated for closer ties between the two countries and whose father is also held in Tehran;
-- Nizar Zakka, a U.S. permanent resident from Lebanon who has done work for the American government;
-- Homa Hoodfar, an Iranian-Canadian woman who is a retired professor at Montreal's Concordia University; and
-- Nazanin Zaghari-Ratcliffe, an Iranian-British woman who works for the Thomson Reuters Foundation, the charitable arm of the news agency.
The four were arrested in connection with separate cases over the past year. Family members and representatives of the four say they did nothing wrong.
Dowlatabadi's statement did not elaborate on the charges, though Iranian media previously accused Zaghari-Ratcliffe of plotting a "soft toppling" of the government and alleged that Zakka was a spy. He said another seven people faced charges related to the unrest that surrounded the country's disputed 2009 presidential election.
Iran does not recognize dual nationalities, meaning those detained cannot receive consular assistance. In previous cases involving dual nationals, like the detention of Washington Post journalist Jason Rezaian, officials initially announced indictments had been handed down without providing specifics. Later, news organizations with close ties to security services offered details of the charges.
Those detained typically face trial in Iran's Revolutionary Court, a closed-door tribunal which handles cases involving alleged attempts to overthrow the government. Rezaian was convicted but later released in January as part of a prisoner swap between Iran and the U.S.
While Iranian officials have not publicly demanded another swap, analysts have suggested the detainees might be used by hard-liners as bargaining chips. Richard Ratcliffe, the husband of Zaghari-Ratcliffe, said as much in a statement to journalists Monday marking the 100th day of his wife's detention.
Ratcliffe said the Guard told his wife's family she would be released as long as the British government reached "an agreement" with them. He said they did not elaborate, other than to say it did not involve the recent nuclear deal, which lifted economic sanctions on Iran in exchange for it limiting its atomic program.
His toddler daughter, Gabriella, also remains in Iran, as authorities seized her passport.
"That the Iranian authorities are willing to hold a mother and baby hostage for domestic politics and as a bargaining chip in their international negotiations shows that they have reached a very dark place," Ratcliffe said.
Monday's announcement did not include any mention of Namazi's father, Baquer Namazi, a former Iranian and U.N. official in his 80s who is also detained. Also unaccounted for is former FBI agent Robert Levinson, who vanished in Iran in 2007 while on an unauthorized CIA mission.
Iranian officials in Tehran could not be reached for comment Monday. Iran's mission to the United Nations did not immediately respond to a request for comment. However, Iran's judiciary spokesman Gholam Hossein Mohseni Ejehi suggested in April that the two Namazis could be traded for Ahmad Sheikhzadeh, an Iranian consultant to the U.N. held in the U.S. on suspicion of tax and money laundering charges for helping violate sanctions.
Iran long has traded detainees, dating back to its 1979 Islamic Revolution that saw the U.S. Embassy in Tehran stormed and diplomats there held for 444 days. That history suggests those held now "are essentially hostages," said Karim Sadjadpour, a senior associate at the Carnegie Endowment for International Peace in Washington.
"No evidence has been presented against and similar to previous Iranian dual nationals they will likely be eventually released as part of a package deal," Sadjadpour said. "Many developing countries see their diaspora communities as assets. The Revolutionary Guard treat Iranian dual-nationals as threats to national security or assets to be bartered."
The hard-line crackdown since the nuclear accord has included the detention and sentencing of Iranian poets, filmmakers, artists and others. Most recently, famed Iranian sculptor Parviz Tanavoli found himself banned from traveling abroad and had his passport seized.
On Monday, Tanavoli told The Associated Press that police had received a complaint alleging that his work was "disturbing public opinion" and "spreading lies." The sculptor called the complaint "baseless" and said his lawyer would fight against his travel ban, which prevented him from giving lectures in London.
The Associated Press contributed to this report.