Investigators say train was traveling over speed limit before derailment, explosion in Quebec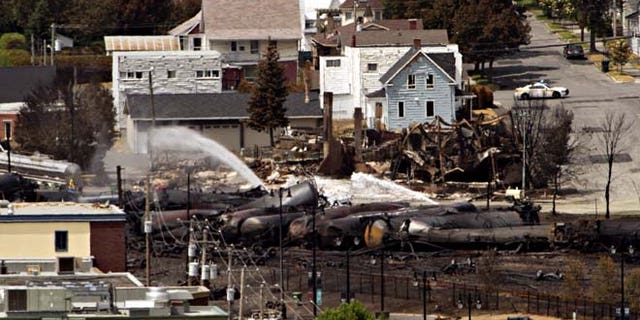 Investigators say an oil freight train that derailed and exploded in a Quebec town on Saturday was traveling way too fast when it came off the tracks, while the chairman of the company that owns the train believes it may have been tampered with.
"The train derail(ed) at approximately 1.14 a.m. and although we can't provide the precise speed at this time, the train was traveling well in excess of its authorized speed at that point,'' Donald Ross, an investigator with the Transportation Safety Board of Canada said Tuesday, according to Reuters.
Ed Burkhardt, of Montreal, Maine & Atlantic Railway, said Monday that he has "evidence" that the train -- which derailed in Lac-Megantic, Quebec and exploded, killing at least 13 -- was tampered with.
"But this is an item that needs further investigation," Burkhardt told the Montreal Gazette. "We need to talk to some people we believe to have knowledge of this."
A probe of the incident is also focusing on whether an earlier blaze on the same train may have have set off a chain of events that led to the explosions.
Searchers, after days of delay, were examining the charred epicenter Tuesday looking for what could be dozens of additional victims.
Nearly 40 people are still missing, not counting the 13 unidentified victims, suggesting the death toll was likely to rise sharply.
Ross said the locomotive's black box has been recovered, and investigators were examining whether the air brakes or the hand brake malfunctioned.
"The extent to which (the fire) played into the sequences of events is a focal point of our investigation," Ross said.
All but one of the train's 73 cars were carrying oil. At least five of the train's tankers exploded after coming loose early Saturday, speeding downhill nearly seven miles and derailing into the town, near the Maine border.
Officials said Tuesday that the fire is finally under control and that 1,200 out of about 2,000 evacuees will be able to go back to their homes.
The search for bodies continued but police declined to update the death toll or take questions about that.
Ed Belkaloul of the Transportation Safety Board told a news conference on Tuesday that the train stopped at 11:00 p.m. local time on Friday night and that at 11:50 p.m. a fire was reported by a witness.
He said the fire was extinguished and at around 1:00 a.m. and that the train rolled into town on its own crashing about 14 minutes later.
The rail tankers involved in the derailment are known as DOT-111 and have a history of puncturing during accidents, the lead Transportation Safety Board investigator told The Associated Press in a telephone interview late Monday.
Ross said Canada's TSB has gone on record saying that it would like to see improvements on these tankers, though he said it was too soon to know whether a different or modified tanker would have avoided last weekend's tragedy.
The DOT-111 is a staple of the American freight rail fleet. But its flaws have been noted as far back as a 1991 safety study. Among other things, its steel shell is too thin to resist puncturing in accidents, which almost guarantees the car will tear open in an accident, potentially spilling cargo that could catch fire, explode or contaminate the environment.
"It's too early to tell. There's a lot of factors involved," Ross said. "There's a lot of energy here. The train came down on a fairly significant grade for 6.8 miles before it came into the town and did all the destruction it did." He said the train was moving at 63 mph when it derailed.
The Saturday blasts destroyed about 30 buildings, including a public library and Musi-Cafe, a popular bar that was filled with revelers, and forced about a third of the town's 6,000 residents from their homes. Much of the area where the bar once stood was burned to the ground. Burned-out car frames dotted the landscape.
Maude Verrault, a waitress at downtown's Musi-Cafe, was outside smoking when she spotted the blazing train barreling toward her.
"I've never seen a train moving so fast in my life, and I saw flames ... Then someone screamed `the train is going to derail!' and that's when I ran," Verrault said. She said she felt the heat scorch her back as she ran from the explosion, but was too terrified to look back.
The derailment raised questions about the safety of Canada's growing practice of transporting oil by train, and was sure to bolster arguments that a proposed oil pipeline running from Canada across the U.S. -- one that Canadian officials badly want -- would be safer.
Montreal, Maine & Atlantic Railway said they believed brake failure was to blame. Burkhardt said in an interview with CBC that the company has a reasonable safety record and that it will no longer leave trains unattended or change crews in Lac-Megantic, according to Reuters.
Nantes Fire Chief Patrick Lambert said that when the same train caught fire hours prior to the accident, the engine was shut off per the standard operating procedure dictated by Montreal, Maine & Atlantic Railway.
The blaze was extinguished within about 45 minutes. And that's where the fire department's involvement ended, Lambert said.
"The people from MMA told us, `That's great -- the train is secure, there's no more fire, there's nothing anymore, there's no more danger,"' Lambert told reporters. "We were given our leave, and we left."
Burkhardt suggested that the decision to shut off the locomotive to put out the fire might have disabled the brakes. "An hour or so after the locomotive was shut down, the train rolled away," Burkhardt told CBC.
Meanwhile, crews were working to contain 27,000 gallons of light crude that spilled from the tankers and made its way into nearby waterways. There were fears it could flow into the St. Lawrence River all the way to Quebec City.
Quebec's Environment Ministry Spokesman Eric Cardinal said officials remained hopeful they could contain more than 85 percent of the spill.
The Associated Press contributed to this report.