Intruder breaks finish line tape before winner at Berlin Marathon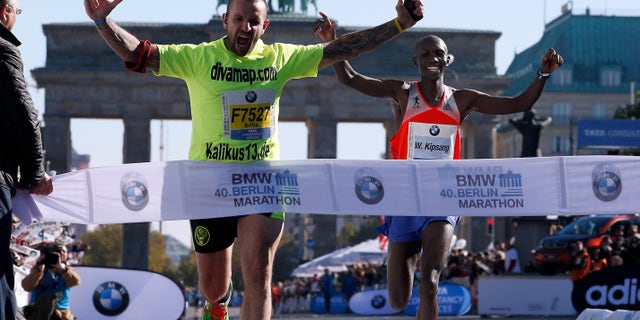 Kenyan distance runner Wilson Kipsang may have broken a world record in Germany's Berlin Marathon Sunday, but he was robbed of a rite of passage.
As Kipsang approached the finish line, a stranger in the crowd dressed in running gear jumped in front of him and broke the tape, according to a report in Newser.com. The unidentified man was wearing a number as well as a t-shirt promoting an escort service, Newser reported, citing German website The Local.
Race officials chased the intruder in the finish line area, which officials had blocked off amid concerns following the terror attack at the Boston Marathon in April. He was caught and taken into police custody, charged with trespassing. The mystery spoiler is banned from any future events run by marathon organizers.
Kipsang, 31, was smiling during the stunt. The world class runner clocked in at two hours, 3 minutes, and 23 seconds, which is a new world record for the 26.2 mile marathon. His prize was $54,000 for winning the race, and another $68,000 for setting the record.
It was the ninth time a world record has been set in Berlin, and five men's world records have been broken there in the last decade, according to an AFP report.
Click for more from Newser.com.