Interpol Issues Top Alert for Arrest of Qaddafi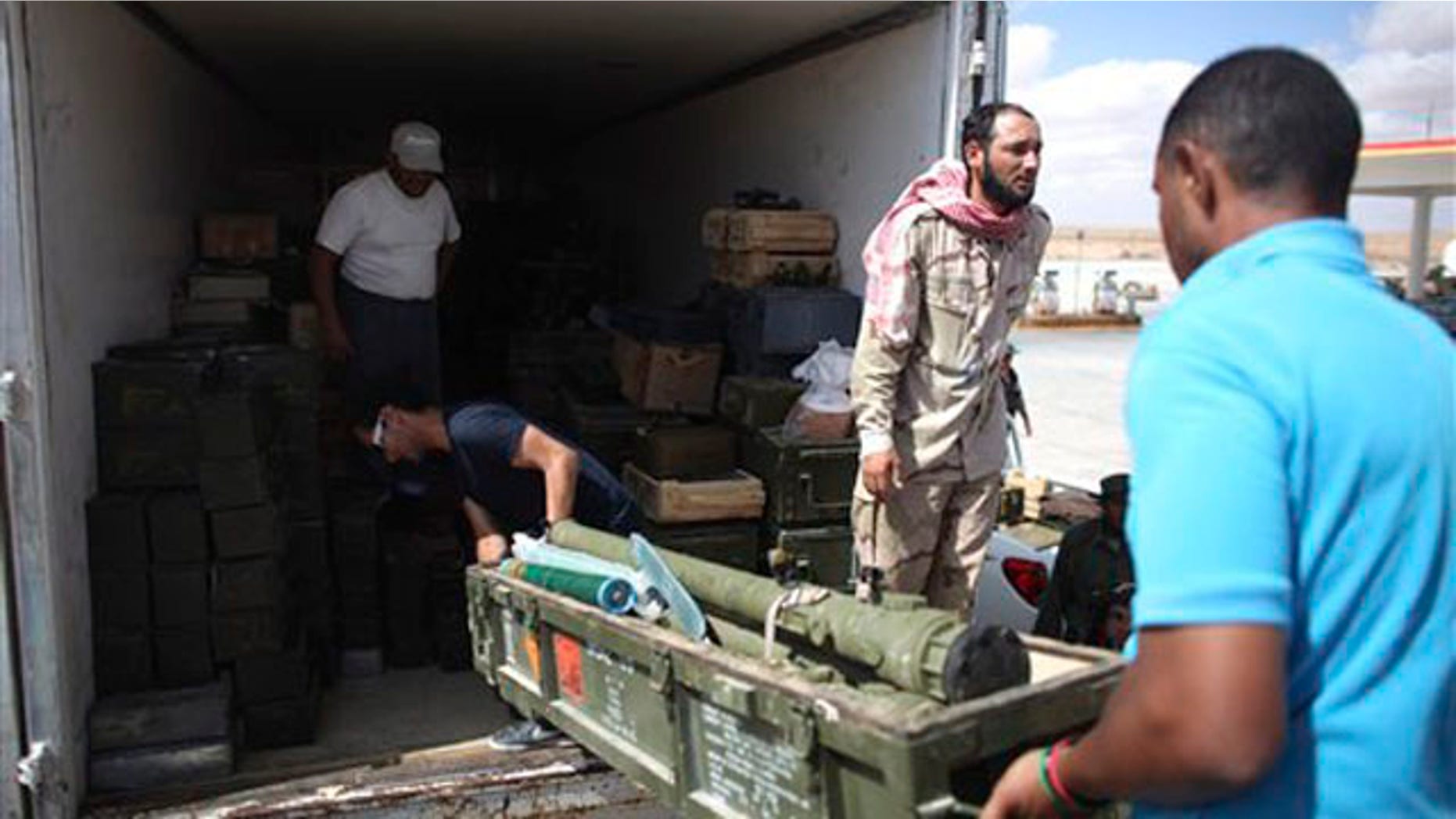 PARIS – Muammar Qaddafi supporters and forces of Libya's new leaders traded deadly rocket fire Friday in skirmishes that could be a prelude to all-out fighting over one of the ousted despot's last remaining strongholds.
Also Friday, Interpol said it has issued its top most-wanted alert for the arrest of Qaddafi, his son Seif al-Islam and the country's ex-chief of military intelligence, all sought by the International Criminal Court for alleged crimes against humanity.
Qaddafi hasn't been seen in public for months and went underground after anti-regime fighters swept into Tripoli on Aug. 21. As the National Transitional Council tries to establish its authority in Libya, speculation about Qaddafi's whereabouts has centered on his Mediterranean hometown of Sirte, southern Sabha, and Bani Walid, 90 miles southeast of Tripoli. Qaddafi loyalists in all three towns have been given until Saturday to surrender, or face an all-out battle.
Friday, Qaddafi holdouts fired mortars and rockets from Bani Walid. Daw Salaheen, the chief commander for the anti-Qaddafi forces' operation at Bani Walid, said his fighters responded with their own rocket fire, and advanced on the town.
Despite the advance, "the deadline is still tomorrow to enter Bani Walid," Salaheen said.
One of Salaheen's fighters returning from the front line, Abdullah Warfali, said forces were about 6 kilometers (10 miles) from Bani Walid at one point, and that his group had lost one man and killed two Gadhafi loyalists in fighting Friday.
Anti-Qaddafi forces around Bani Walid unloaded hundreds of boxes of ammunition and ordinance and reinforcements in gun-mounted trucks rushed toward the front line in the desert sand.
"Our men are preparing for an attack, probably tomorrow," said Abdel-Razak al-Nazouri, a commander in the region.
Another fighter in the region, Osama al-Fassi, said: "We are preparing for war."
The anti-Qaddafi fighters said they had captured 10 Gadhafi fighters they suspected were spying on them. Dressed in fatigues, their hands tied behind their backs, the 10 were being held in two pickup trucks at the Wishtata checkpoint, about 20 miles from Bani Walid. An Associated Press photographer who saw the trucks said two of the 10 appeared to be dead.
At one point, an ambulance rushed into Wishtata and an anti-Qaddafi fighter on a stretcher was picked up and taken to a field hospital. Officials refused to say how he had been injured.
The seizure of the capital by the then-rebel forces effectively ended nearly 42 years of Qaddafi's autocratic, violent and unpredictable rule. The new leaders now control most of the country, but as long as Qaddafi is on the loose, able to urge his followers on with messages from underground, they cannot claim total victory. In Tripoli Thursday, Mahmoud Jibril, the head of the former rebels' acting Cabinet, said that a new government can be formed only after the whole country is "liberated."
Jibril also told reporters negotiations for the peaceful takeover of Bani Walid, Sirte and Sabha were an opportunity to avoid further bloodshed, but said his forces would respond if attacked. He criticized Bani Walid's leaders, saying they had shown "no real initiatives or intentions to give peace a chance and bring unity back to the Libya people."
Some say prominent regime loyalists, including Qaddafi's son and one-time heir apparent, Seif al-Islam, could be in Bani Walid.
Jibril spokesman Mahmoud Shammam said Qaddafi's inner circle has been broken up, with most of its members under arrest or in the process of handing themselves over.
Muammar Qaddafi, Seif al-Islam Qaddafi and former military intelligence chief Abdullah al-Senoussi are the only people at large who matter, Shammam said in a telephone interview from Qatar.
In a statement Friday, Interpol Secretary General Ronald K. Noble called the red notices it issued to its 188 member countries Friday "a powerful tool" in helping lead to the capture of the Qaddafis and al-Senoussi. A red notice is the equivalent to being on the Lyon, France-based international police body's most-wanted list.
Noble said the notices will "significantly restrict the ability of all three men to cross international borders."
On Thursday, in an audio message broadcast on a Syrian-based TV station, a man believed to be Qaddafi dismissed talk of his flight.
In London, Major Gen. Nick Pope, a Defense Ministry spokesman, said NATO launched a long-range mission targeted a military vehicle depot near Sabha Thursday, and attacked a rocket launcher and an armed pickup truck near Sirte.
NATO says it is acting under a U.N. mandate to guarantee the safety of Libya's civilian population. Its bombing campaign has been crucial to the advance of Qaddafi's military opponents.