Intense bombing campaign targets Syria civil defense centers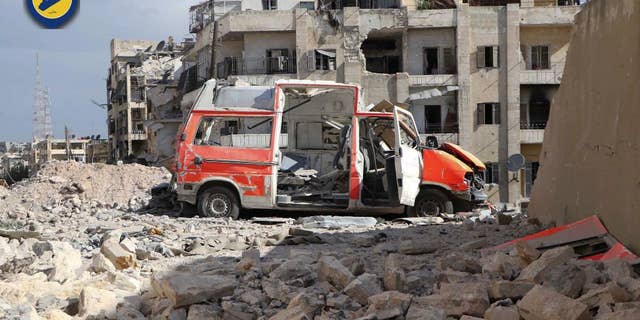 NEWYou can now listen to Fox News articles!
BEIRUT – A bombing campaign in rebel-held districts of Syria's Aleppo city intensified Friday, targeting several neighborhoods and centers of the award-winning volunteer civil defense group known as the White Helmets, as the government announced a new offensive in the area.
The intense bombing and the declaration of a new offensive come as diplomatic efforts failed to salvage a cease-fire that lasted nearly a week, before giving way to a new level of violence. Residents and activists say the bombing, which began in earnest late Wednesday night, has been unprecedented, targeting residential areas, infrastructure and civil defense centers. Some streets have been closed off because of piles of rubble.
The Britain-based Syrian Observatory for Human Rights said at least seven civilians, including three children, were killed in about 30 raids that began overnight. A member of the city's forensic team, Mohammed Abu Jaafar, said he had documented nine deaths since late Thursday, including five women and two children. Abu Jaafar said it was impossible to document casualties and injuries Friday because of the intensity of the bombing.
Ibrahim Alhaj, a member of the Syrian Civil Defense, said three of the group's centers had been targeted in the air bombing campaign that usually accelerates after dark. By Friday morning, one center in the Ansari neighborhood in the southern part of the rebel-held district had been put out of service after it was hit around 7 a.m. Ambulances and the one fire engine that serves the rebel-held part of Aleppo had been damaged. In another center, Alhaj said, a bomb fell in the courtyard of the center and the extent of the damage was not yet clear.
"It is really critical. (Syrian President Bashar Assad air forces) have directly targeted civil defense centers," Alhaj said. There were no reported casualties among the group's volunteers.
"I have not seen in my life such bombardment. It is very, very intense," Alhaj said.
"The regime tried to advance in several neighborhoods in Aleppo," he said, adding that rebels have been so far able to repel all attacks. He said the attack on civil defense centers had delayed and hindered their work since some vehicles were destroyed.
Amid the intense campaign, it has become even more deadly for the civil defense teams to move. Already suffering from a shortage of fuel, their vehicles have been hard pressed to meet the increased demand on their services. For hours Thursday, the teams searched to save civilians who were buried under rubble in several neighborhoods in rebel-held Aleppo.
Also Friday, a Syrian military official said airstrikes and shelling in Aleppo might continue for an extended period and the operation will expand into a ground invasion of rebel-held districts. The unnamed military official was quoted by Syrian state media as saying that operations in rebel-held eastern parts of the city, "will include a ground offensive."
Other residents reported that one of two water stations feeding the city had been hit. A pro-government TV station, Addounia TV, blamed the armed groups for targeting the water station in Bab al-Nairab which feeds both sides of the contested city. The station said pumping from the station has ceased, but said work had begun to fix it. It was not immediately possible to verify or assess the extent of the damage or independently confirm who hit it.
The air campaign was followed by an announcement late Thursday by Syria's military command in Aleppo that it is launching new operations in rebel-held eastern quarters of the city. The announcement and reports of clashes on several edges of the besieged city raised concerns of imminent ground operations.
Rami Abdurrahman, of Observatory for Human Rights, said Friday that government troops seized buildings on the frontline, pushing back rebel fighters in the southern al-Amiriah district.
Alhaj, of the Civil Defense, confirmed the government troop movements on the city's southern edge.
The Observatory said there were also air raids on the north of Aleppo city, and reported clashes on the frontline, near the old city center.
After a contentious two-and-a-half hour meeting with colleagues in New York, Secretary of State John Kerry and Russian Foreign Minister Sergey Lavrov said they would meet again Friday in a bid to find a way forward. Despite a week of diplomatic talks and attempts to seek consensus, developments on the ground in Syria seem to have overshadowed prospects for bringing about calm.