Ink-Flavored Noodles and Steroid-Laden Meat Fuel Continued Fears Over China's Food Safety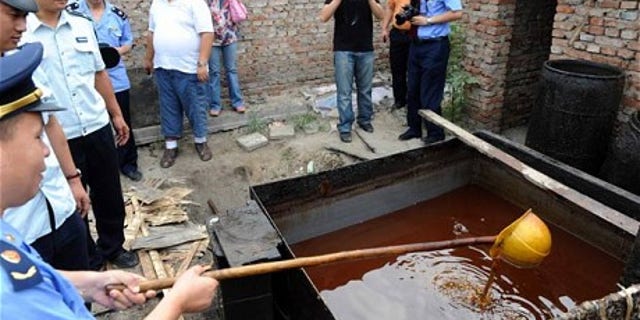 Pork laden with banned steroids, melamine milk and noodles flavored with ink and paraffin -- it's enough to make even this nation of dedicated foodies afraid to eat anything at all.
But scouring news reports and mulling over which brands to buy in their local supermarkets have become a daily ritual for many in China, where problems in food safety persist two years after the infant-formula scandal that killed at least six babies and sickened nearly 300,000 others.
"I think people are worried about the sources of products," said Jeannie Xie, 30, a marketing executive shopping on her lunch break this week.
"I have made some changes, including changing which brands I buy. I pay attention to the news, and if there's a brand that seems to have problems I won't buy it."
In the 2008 scandal, just before Beijing's much-anticipated hosting of the Summer Olympics, hundreds of thousands of small children became ill -- many with serious kidney problems -- after drinking formula containing the industrial chemical melamine. It was added to milk powder to make its protein content appear higher and thus increase the producer's profits.
Yet despite tougher regulations, more frequent inspections and even the death penalty for those at the top of the melamine-milk scandal, Chinese newspapers still contain a daily litany of food poisonings and scares.
In the last month alone, inspectors have seized another 26 tons of contaminated milk powder, pork containing clenbuterol -- a steroid often used as an asthma medication that makes pigs lean but is not safe for consumption -- and pork treated with sodium borate to make it appear to be higher-priced beef. Twelve people were arrested last month for using sodium nitrite, urea, antibiotics, and a plant hormone to make several tons of bean sprouts grow faster and look more appealing.
And Shanghai supermarkets pulled thousands of steamed buns off their shelves late last month after their manufacturer was found to be adding illegal color and sweetener to stale buns to make them appear fresh. In response, Chinese authorities have just expanded a list of banned food additives to include 151 substances, and have promised to step up inspections.
Yet a public survey by China's respected Academy of Social Sciences released this week found the food industry still facing "serious public mistrust." "These virulent food-safety incidents have revealed a grave situation of dishonesty and moral degradation," China's prime minister, Wen Jiabao, said in a recent speech to government officials, later published in state-controlled media.
"Without high-quality citizens or ethical strength, China cannot be a respectable economy or power in a real sense."
But ethics do not always factor in when the hundreds of thousands of tiny producers who are barely making a living are confronted with major financial losses from disposing of a contaminated, even hazardous supply of raw material.
"There are so many small producers," said Chen Junshi, a senior research professor with the Institute of Nutrition and Food Safety in China's Center for Disease Control and Prevention, who cited the 2008 milk powder scandal as an example.
"How can they have [any] credibility? They don't care. They could close down today and tomorrow get another enterprise, maybe not milk, maybe something else …They weigh their loss and benefits and they want to take a chance." And that problem -- too many small producers operating on too-tight margins, without enough inspectors to keep tabs on them -- means more cases of poisoning as a result of unsafe food. "[The government's measures] will work. But they will not totally make future food incidents never happen. They will still happen," Dr. Chen said.
About 500,000 food producers, not including restaurants, are registered in China, as well as millions of small farmers, he said, and inspectors simply cannot reach them all. "I'm not saying the government should not strengthen their food safety and inspection controls. But this is reality."
Which means, observers say, change also has to come from producers themselves.
"One of the problems is people don't want to talk of it," said Paul Midler, author of the book "Poorly Made in China" and a quality-control consultant based in Hong Kong, who argues that change will not happen until factory workers and consumers themselves can speak out without fear of reprisal.
"There are quality problems that are the result of not knowing, or negligent behavior, but then you have the things that are outright fraud." Still, the government crackdown has calmed some people's fears. "I think a lot of small producers in the milk industry have been closed because of the crackdown, so if they don't meet the standards they're done," said Chao Wubin, a 27-year-old office worker, as he and his pregnant wife left a Beijing supermarket.
His wife, Gao Ying, also 27, said she will try to avoid using formula by breast-feeding their child, due later this month.
As for their other groceries, they will shop at well-known chains and hope. "Of course we worry," Mr. Chao said. "But [the inspections] give me more confidence."