Indonesian military plane may have suffered engine problem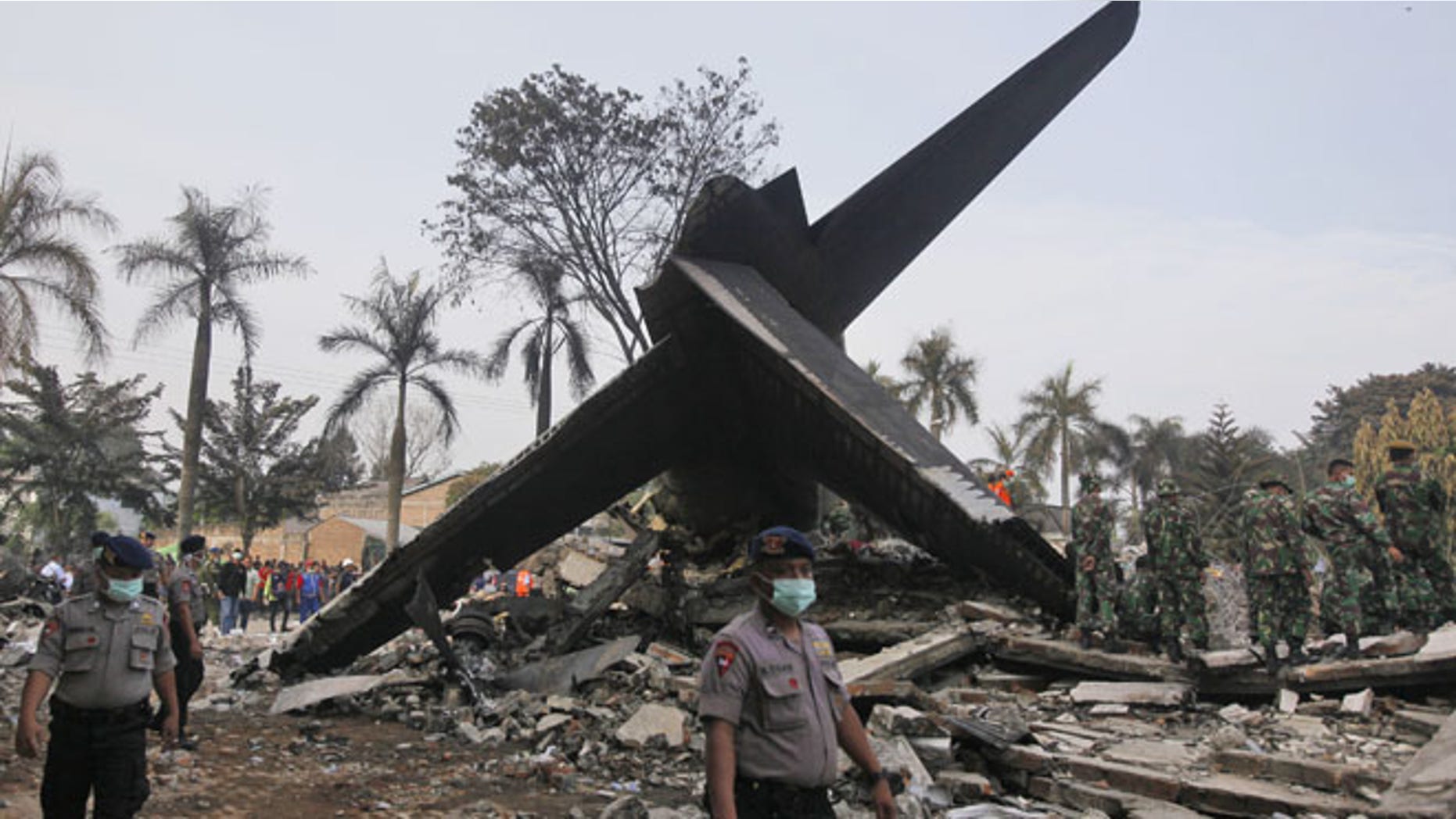 MEDAN, Indonesia – The aging Indonesian military transport plane that crashed into a residential neighborhood of Medan killing 141 people had a propeller "abnormality" that indicates an engine stalled, the air force chief said Thursday.
Air Marshal Agus Supriatna told reporters the fact that the plane turned rightward after takeoff and was flying at a lower than normal speed also suggests an engine failure.
Before crashing shortly after takeoff on Tuesday, the C-130 Hercules hit a 115-foot radio antenna, he said. "By hitting the antenna, I imagine it certainly affected the plane," Supriatna said.
The search for bodies ended Wednesday. The plane was carrying 122 people and the impact also killed people on the ground. The wreckage of the plane has been removed from the neighborhood in Indonesia's third largest city and two nearby roads have been reopened. The smell of jet fuel still lingers around the crash site.
Air force spokesman Dwi Badarmanto said it has grounded other B-type Hercules planes pending the investigation. He didn't say how many planes were involved.
Supriatna said the early findings of the investigation suggest a propeller was "feathered" by the pilot, using a technical term to describe a high-angle position for the blades that reduces the tendency of the plane to swing in the direction of the failed engine.
"If there was feathering that means the engine was dead," he said.
The C-130 was carrying many more passengers than the military first reported. Initially, the air force said there were 12 crew members on the 51-year-old plane and did not mention passengers. It then repeatedly raised the number of people on board, indicating confusion about how many people had boarded and alighted during a journey covering several cities.
President Joko "Jokowi" Widodo has ordered a review of aging air force planes and other military hardware. Indonesia's military spending is equal to 0.8 percent of GDP, according to the World Bank, about half that of its neighbors Malaysia and Thailand. The cash crunch for Indonesia's armed forces is compounded by the vast area of an archipelago nation made up 17,000 islands and spanning three time zones.
Indonesia's last C-130 crash was in 2009, when about 100 people were killed. The plane crashed into a row of houses as it was attempting to land at an air base in East Java province.
At the time, there were calls for a bigger military budget to replace aging planes.