Indonesian island lifted 10 inches by deadly quake

TANJUNG, Indonesia – Scientists say the deadly Indonesian earthquake lifted the island it struck by as much as 10 inches.
In the northwest of the island near the epicenter, the rupturing faultline lifted the earth by nearly a foot. In other places it dropped by 2-6 inches. Using satellite images of Lombok from the days following the August 5 quake, scientists from NASA and the California Institute of Technology's joint rapid imaging project made a ground deformation map and measured changes in the island's surface.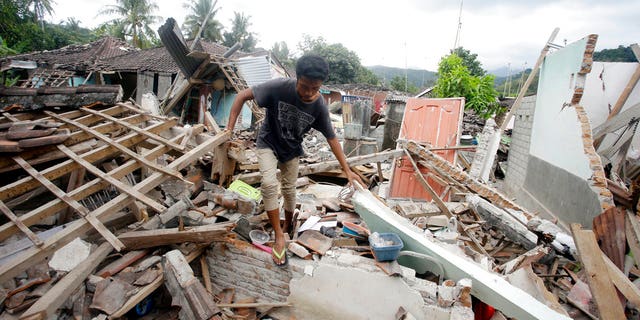 The quake killed more than 300 people while some 270,000 people are homeless or displaced. About 68,000 homes were damaged or destroyed on this island with a population of more than 3 million.
Nearly a week since the 7.0 quake, Lombok is still reeling but glimmers of normality are returning and devout villagers are making plans for temporary replacements of mosques that were flattened.
In Tanjung, one of the worst affected districts in the hard-hit north of the island, a food market opened Saturday and locals bought vegetables and fish. Some shops also opened for business despite being in damaged buildings.
"If I just stay at the camp and don't come here to sell then I don't have money to buy rice," said Natbudi, one of the market vendors.
Lombok, a popular but less developed tourist destination than neighboring Bali, was hit by three strong quakes in little over a week and has endured more than 500 aftershocks.
A July 29 quake killed 16 people. An aftershock measuring magnitude 5.9 on Thursday caused panic, more damage and more than two dozen injuries.
Villager Sunarto, buying fish at the makeshift market, said it was a relief to do something ordinary.
"I feel happy and thank God that finally the market is open," he said. "We can buy our needs while waiting for the situation to get back to normal even though we're still worried."
Indonesia is prone to earthquakes because of its location on the "Ring of Fire," an arc of volcanoes and fault lines in the Pacific Basin. In December 2004, a massive magnitude 9.1 earthquake off Sumatra triggered a tsunami that killed 230,000 people in a dozen countries.