Indonesian court sentences British woman to death for smuggling drugs into country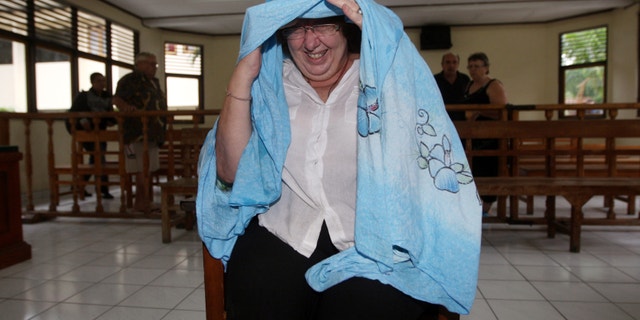 BALI, Indonesia – An Indonesian court sentenced a British woman to death on Tuesday for smuggling cocaine worth $2.5 million into the resort island of Bali -- even though prosecutors had sought only a 15-year sentence.
Lindsay June Sandiford, 56, wept when judges handed down the sentence and declined to speak to reporters on her way back to prison, covering her face with a scarf. She had previously claimed in court that she was forced into taking the drugs into the country by a gang that was threatening to hurt one of her children.
There are about 40 foreigners on death row in Indonesia, which like many Asian countries is very strict on drug crimes.
A verdict is expected in the trial of Sandiford's alleged accomplice, British man Julian Anthony Pounder, on Wednesday. He is accused of receiving the drugs in Bali, which has a busy bar and nightclub scene where party drugs such as cocaine and ecstasy are bought and sold between foreigners.
In its verdict, a judge panel at the Denpasar District Court concluded that Sandiford had damaged the image of Bali as a tourism destination and weakened the government's drug prevention program.
"We found no reason to lighten her sentence," said Amser Simanjuntak, who headed the judicial panel.
State prosecutors had been seeking a 15-year prison sentence for Sandiford, who was arrested in May when customs officers at Bali's airport discovered 3.8 kilograms (8.4 pounds) of cocaine in the lining of her luggage.
Indonesia has an estimated 114 prisoners on death row. Most of the more than 40 foreigners among them have been convicted of drug crimes, according to a March 2012 by Australia's Lowy Institute for International Policy.
Five foreigners have been executed since 1998, all for drug crimes, according to the institute. There have been no executions in the country since 2008, when 10 people were put to death.
Bali is a popular destination for illegal drugs because of its tourist and expatriate populations. There are currently two Australians on death row. They were convicted in 2006 for smuggling heroin onto the island along with seven other Australians.