Indonesia, Australia agree to free trade, closer naval cooperation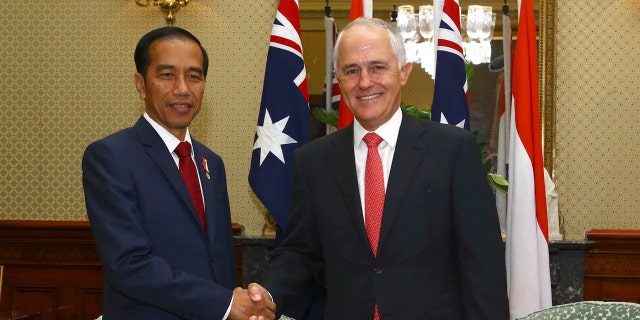 SYDNEY – Indonesian and Australian leaders on Sunday committed to free trade and closer naval cooperation as they urged countries in the Asia-Pacific region with competing territorial claims to obey international law.
Indonesian President Joko "Jokowi" Widodo arrived in Sydney on Saturday on his first visit to Australia as his nation's leader. He and Prime Minister Malcolm Turnbull said they had agreed to finalize a free trade agreement this year.
Jokowi said the first issue for Indonesia was the removal of all Australian barriers to the import of Indonesian palm oil and paper. But before the deal is finalized, Turnbull announced that Indonesia has agreed to reduce tariffs on Australian sugar and ease restrictions on Australian cattle imports.
Australia in return will remove all tariffs from Indonesian pesticides and herbicides, he said.
The two leaders also witnessed the signing of an agreement on maritime cooperation that include strengthening maritime security and border protection as well as combating crime and improving efficiency of shipping.
"We have vested interests in the peace and stability in our region's seas and oceans, so we both strongly encourage the countries in our region to resolve disputes in accordance with international law which is the foundation for stability and prosperity," Turnbull said.
Indonesia does not have a territorial dispute with China in the South China Sea, but there have been tensions because China's so-called nine-dash line representing its claim to most of the sea appears to overlap with Indonesia's exclusive economic zone extending from the Natuna Islands.
Beijing has described the area as a traditional Chinese fishing ground, although it is nearly 1,250 miles from the Chinese mainland. There were three known incidents between Chinese fishing vessels and Indonesian government ships last year.
Jokowi is not regarded as pro-Australia as his predecessor, Susilo Bambag Yudhoyono. Turnbull took the unusual step of inviting Jokowi to a private dinner at his Sydney Harbor-side mansion on Saturday as a gesture of the close ties between Indonesia's 250 million people and Australia's population of 24 million.
The relationship has been fractious in the past.
Military cooperation on language training was suspended last month after an Indonesian officer saw as derogatory references to Indonesia's state ideology Pancasila in training materials used at a special forces base in the west Australian city of Perth.
Turnbull said Sunday that he and Jokowi had agreed to fully restore defense cooperation.
Another irritant in the relationship is the Australian navy's tactic of turning asylum seekers' boats back to Indonesia. Indonesians regard forcing Australia-bound boats carrying foreigners to Indonesia's shores as an affront to Indonesian sovereignty.
The leaders also announced that an Australian consulate will open in the Indonesian city of Surabaya and Indonesian language teaching centers in the Australian cities of Sydney, Brisbane and Darwin.