India's ruling party in disarray over criminal lawmakers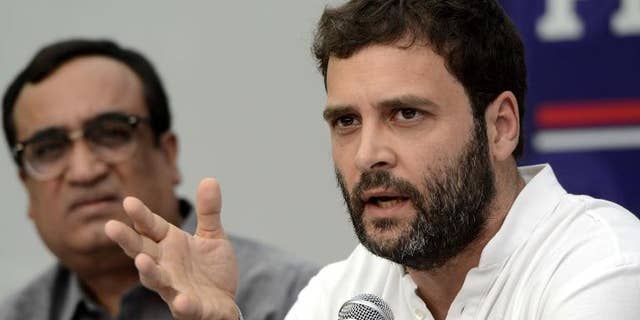 New Delhi (AFP) – Rahul Gandhi, number two in India's ruling Congress party, turned on the government on Friday, calling a recent move to prevent criminal lawmakers from being ejected from parliament "complete nonsense".
The comments from Gandhi, chief campaigner for Congress as they fight for a third consecutive term in national elections due next year, sparked speculation that it was a deliberate damage control plan after the party was portrayed as being weak on corruption.
The government moved an executive order earlier this week attempting to overturn a Supreme Court decision that national and state lawmakers should be disqualified if they are convicted in criminal cases carrying jail terms of more than two years.
"My opinion on the ordinance is that it is complete nonsense and should be torn up and thrown away," said a bearded Gandhi at an impromptu press conference in New Delhi on Friday.
"If you want to fight corruption in the country... we cannot continue making these small compromises."
After Gandhi left the press conference, Congress spokesman Ajay Maken said, "Rahul has clear dispositions. He is our leader and this is our party's official stand."
The ordinance was decried by the main political opposition as unconstitutional and condemned by anti-corruption activists who openly questioned the government's oft-stated commitment to battling endemic and growing graft in India.
Rahul's mother Sonia is India's most powerful politician as head of the Congress party, which has ruled India for most of its post-independence history under the leadership of the Nehru-Gandhi dynasty.
The ordinance, which needs the president's approval, allows convicted lawmakers to continue to participate in parliamentary proceedings, but would bar them from voting after debates or receiving a government salary.
The government had earlier argued that the Supreme Court decision was unfair, saying politicians can often fall prey to conviction on "frivolous grounds" and should have the right to appeal after convictions.
The NDTV news channel, citing sources, reported that it would now be withdrawn in what would be a blow to the authority of Prime Minister Manmohan Singh, who is in the United States.
"The Congress party saying that it rejects the ordinance is a desperate damage control exercise," said Arun Jaitley, senior leader of the main opposition Bharatiya Janata Party (BJP).
Opposition parties like the BJP and the Aam Aadmi Party (the "common man" party), headed by activist-turned-politician Arvind Kejriwal, had visited President Pranab Mukherjee asking him to reject the ordinance.
"Rahul Gandhi thinks everybody in the country is a fool. They themselves bring in the ordinance and then tear it up," tweeted Kejriwal.
Gandhi, 43, is often portrayed as a reluctant leader who has resisted pressure to take cabinet positions for years, but is now projected as the face of the Congress ahead of national polls in 2014.