India's new bank chief set to keep rates on hold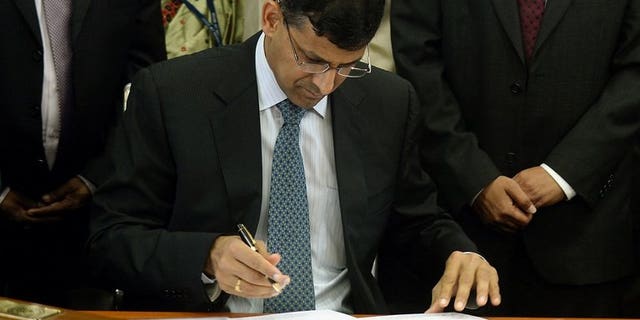 MUMBAI (AFP) – India's new central bank governor was set to chair a cautious first monetary policy meeting on Friday, when he is expected to keep interest rates unchanged to check rising inflation.
Top economist Raghuram Rajan, nicknamed "The Guv", took charge as Reserve Bank of India (RBI) chief earlier this month faced with the unenviable task of propping up a weak rupee, curbing rising inflation and reviving slowing economic growth.
The central bank's benchmark interest rate stands at 7.25 percent, and economists widely expect Rajan to keep rates steady at Friday's meeting after inflation hit an unexpected six-month annualised high of 6.1 percent this week.
While businesses would like a rate cut to help revive sluggish growth, this would risk pushing inflation higher and further weakening the rupee, which hit record lows in the weeks before Rajan took charge.
The RBI is expected to announce its decision at 11am (0530 GMT) in the financial hub of Mumbai.
Huge expectations are riding on Rajan, a former International Monetary Fund chief economist who famously predicted the 2008 global financial crisis years in advance.
He has been lionised by India's media, and one top columnist has dubbed him the "Poster Boy of Banking" whose "chiselled features are as sharp as his brain".
On his first day in office on September 4, Rajan said he may have to take unpopular steps to tackle what some economists have called India's worst economic crisis in decades.
He almost immediately announced a string of measures to liberalise financial markets and support the currency. His efforts to swell foreign exchange coffers have helped the rupee bounce back, reaching 61.75 against the dollar from 67 when he took charge.
The benchmark 30-share Sensex index has risen just over eight percent to near 20,650-point levels in the same period.
Before he took over, the RBI announced a string of measures to tighten liquidity in an attempt to stem the rupee's freefall, including raising short-term rates in July.
"The key focus will be on whether the RBI starts to unwind some of its recent liquidity-tightening measures that were aimed at stabilising the currency," said Sonal Varma, economist with equity research firm Nomura.
"On the monetary policy front, we expect the RBI to keep the key policy rates -- repo rate and cash reserve ratio (CRR) -- unchanged."
Siddhartha Sanyal, chief India economist with Barclays Capital, also expected Rajan to keep interest rates on hold.
The economy has gone dramatically downhill since the "Indian Summer" of the last decade, when annual growth rates regularly topped eight and nine percent.
It grew by five percent last year, its slowest pace in a decade, and some private economists forecast expansion this year at under four percent.