India's Modi pledges clean govt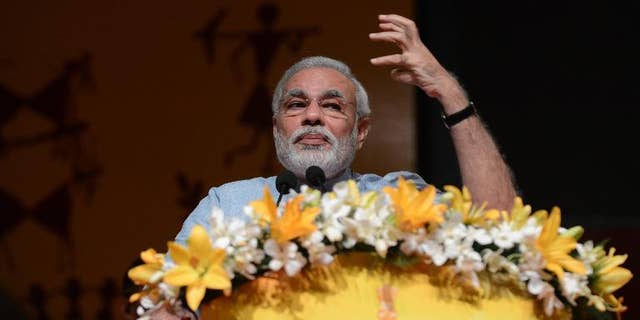 New Delhi (AFP) – India's opposition prime ministerial candidate Narendra Modi vowed Sunday a corruption-free government and a tough stand against rival Pakistan if his party wins elections next year.
During his first rally in the capital, the Hindu hardliner called Prime Minister Manmohan Singh weak and said his government was riddled with graft, as tens of thousands of supporters screamed Modi's name.
"The coalition (government) is now addicted to corruption and instead of finding solutions to end the culture of graft, it stops functioning," Modi told the crowd, many waving party flags and wearing Modi face masks.
"India needs a dream team and not a dirty team in 2014 and people must decide that during the elections," he said in a speech at Japanese Park lasting just over an hour.
Modi was elected the opposition Bharatiya Janata Party's (BJP's) prime ministerial candidate early this month before national elections due by next May.
The rally helped launched the BJP's campaign for the Delhi state elections, to be held later this year and seen as a dry run for the national polls.
The BJP is seeking to overthrow the Congress-led coalition government, which has been embroiled in a string of graft scandals and is desperate to boost sluggish economic growth, after almost a decade in power.
But Modi, the chief minister of the western state of Gujarat, is a polarising figure -- tainted by deadly anti-Muslim riots on his watch in 2002, but also credited with turning Gujarat into an economic powerhouse.
Modi was also chief minister at the time of the riots, during which as many as 2,000 people were killed, mainly Muslims. He is accused of turning a blind eye to the violence but denies any wrongdoing.
On Sunday Modi branded premier Singh as too weak to raise the issue of attacks on Indian soil, which India blames on Pakistani-based militants, during his first talks with his Pakistani counterpart later on Sunday.
Singh will sit down on the sidelines of the UN General Assembly with Prime Minister Nawaz Sharif, who has called for improved ties between the nuclear-armed neighbours since he was elected in May.
"Today the prime minister meets Nawaz Sharif but the country doubts whether the prime minister has the courage to discuss the issue of terrorism unleashed on us by Pakistan," Modi said.
"It is also doubtful whether our prime minister will discuss the issue of our soldiers being killed on the borders. The nation wants the prime minister to bring back the heads of Indian soldiers severed by Pakistani forces," he said.
Modi was referring to deadly incidents along the heavily militarised de facto border that divides Kashmir between Pakistan and India. The countries have fought two wars since independence over the Himalayan region.
In front of diplomats and media and amid a heavy police presence, Modi attacked the ruling Congress party headed by Sonia Gandhi and her son Rahul, whom he said ran roughshod over premier Singh.
"Today dynastical rule is strangling democracy and the nation must decide whether India should be governed constitutionally or at the whims of the Prince (Rahul Gandhi), who has insulted the prime minister, the cabinet and the constitution of India," he said.
Modi was referring to Gandhi's blistering rejection on Friday of a government decree to protect convicted lawmakers. Gandhi turned on Singh's government, calling its move to allow convicted criminals to serve in parliament "complete nonsense".
Among the crowd, Modi supporter Pradeep Kumar Singh rejected concerns that the BJP leader would alienate religious minorities if elected prime minister.
"Modi does not hate Muslims. It's the Muslim clerics who preach hatred, not Modi," he said.