Indian Uber driver found guilty of raping passenger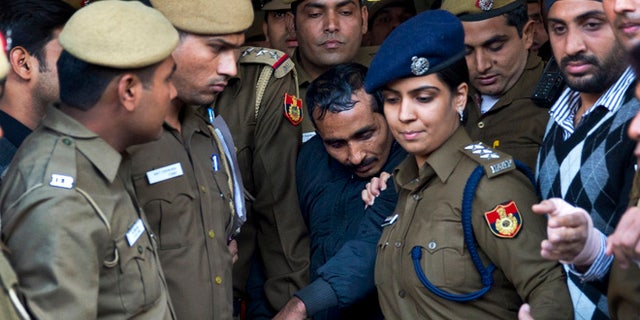 An Indian court has found an Uber driver guilty of raping a female passenger in his taxi in the Indian capital last year, a court official said Tuesday.
Shiv Kumar Yadav was also convicted of criminal intimidation, kidnapping, and endangering the woman's life, public prosecutor Atul Srivastava told reporters.
"Maximum punishment for the crimes is life imprisonment and we will be pushing for that," Srivastava said.
The 26-year old woman, working in a private firm, had hired the cab for a ride home.
Yadav's lawyer D. K. Mishra said his client was not guilty and he would study the judgment before deciding on the next course of action.
The rape in December last year prompted widespread protests in India against sexual violence and led to demands for more effort to ensure women's safety.
The woman later filed a lawsuit against Uber in a U.S. court seeking unspecified damages while accusing the company of failing to properly investigate Yadav's background. The lawsuit was later settled out of court.
New Delhi police official Brijendra Kumar Yadav said Tuesday that police are investigating whether Uber misrepresented the safety of its service and was criminally negligent.
The rape case dealt a blow to Uber, which has attracted global popularity and controversy with a service that lets passengers summon cars through an app in more than 250 cities around the world.
The Delhi government banned app-based taxi companies after the incident, accusing the taxi companies of failing to carry out background checks on the drivers they hired. Uber lost its license to operate in the Indian capital but it was restored in July.
Weeks later the company announced a $1 billion investment for the Indian market to expand its services and products.
Uber hopes to hit a target of 1 million rides per day in this country of more than 1.2 billion people. The company also plans to expand services outside of 18 cities in India that currently have Uber. The moves will make India the largest geographic market for Uber, ahead of the U.S. where the app was founded.
Yadav's sentencing is expected on Friday.