Indian town angry at police after massive explosion kills 90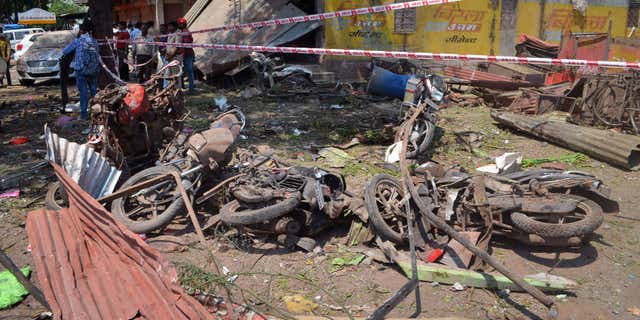 NEW DELHI – Dozens of residents of a central Indian town shouted slogans Sunday to protest a failure by police to arrest a contractor blamed for a massive explosion at a restaurant that killed 90 people.
A cooking gas cylinder exploded Saturday morning, triggering a second blast of mine detonators stored next to the restaurant, located in the town of Petlawad in Madhya Pradesh state.
The state's top elected official, Chief Minister Shivraj Singh Chouhan, had to face about 50 angry protesters when he visited the site of the explosions. Protesters waved black flags and forced Chouhan to step out of his car and listen to their complaints against the police and the local administration for failing to enforce safety regulations.
Police officer Kamlesh Bamaniya said the protesters were also angry that Petlawad police had failed to arrest Rajendra Kashawa, who was accused of illegally storing the detonators.
Bamaniya said Saturday that Kashawa had died in the explosions. But on Sunday, he said police had information that he was absconding. Police have filed a case of criminal negligence against Kashawa and are looking for him, Bamaniya said.
Kashawa had been given a license to purchase detonators for his business of digging wells, but had stored the detonators illegally in a room adjacent to the restaurant, Bamaniya said.
The restaurant, located next to the main bus station in Petlawad, was crowded with people having breakfast when the blasts occurred.
The building where the restaurant was located and an adjacent building were destroyed in the explosions.
Rescue workers working through the day Saturday extricated 90 bodies from under a huge heap of rubble.
Most of those killed in the explosions were poor laborers who were in the restaurant drinking tea as they waited to be hired by contractors to work in nearby manganese mines.
Around 100 other people were injured in the blasts and were taken to hospitals. At least 20 of them were in critical condition, Arun Sharma, a Madhya Pradesh state health official, said Sunday.
Mine operators are supposed to follow guidelines on the safe storage of detonators and other explosive materials but are often lax, and the district authorities rarely act against them, Bamaniya said.
The explosive materials are used by miners for blasting operations or for digging wells.
Petlawad is about 590 miles south of New Delhi.