Indian police arrest 7 over temple fire that killed 116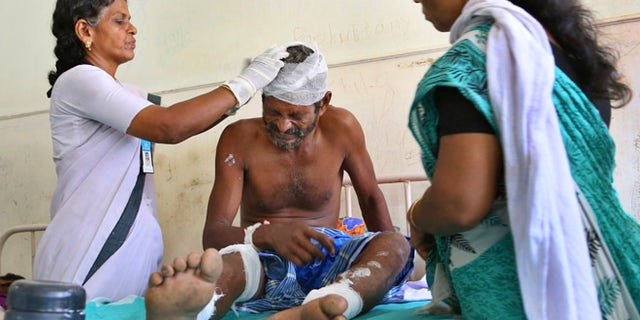 NEW DELHI – Seven people who had fled after an illegal fireworks display set off a fire that killed at least 116 people at the southern Indian temple where they're board members were arrested Tuesday and will face prosecution, police said.
The seven surrendered to authorities late Monday after a two-day search by police following Sunday's fire in the Kerala state village of Paravoor, said Gupakumar, a police officer who uses one name.
They were arrested after being questioned on Tuesday, said another police officer, who spoke on condition of anonymity because he was not authorized to speak to reporters. They will remain detained while police investigate the case and will later be charged.
Police are still looking for eight other temple board members and associates of firework contractors for possible charges of attempted murder and culpable homicide, both punishable by life imprisonment, and illegally storing a cache of explosives.
District authorities worried about safety had denied permission to the temple this year for its annual competitive fireworks show, during which different groups put on displays at the end of a seven-day festival honoring the goddess Bhadrakali, a southern Indian incarnation of the Hindu goddess Kali.
Besides the deaths in the early Sunday blaze at the Hindu Puttingal Devi temple complex, more than 380 people were injured. Around 200 of the injured are still being treated in various hospitals, M. Palanai, another police officer, said Tuesday.
The temple complex was packed with thousands of people when the fire swept through.
Fireworks and firecrackers are commonly used at temple festivals in southern India and during weddings across the country. The demand for firecrackers shoots up during Hindu festival seasons across India.
A court on Tuesday banned noisy nighttime pyrotechnic displays at all places of worship in Kerala state, the Press Trust of India news agency said. The Kerala High Court order came on a petition filed by a judge seeking an immediate ban on the use of high-decibel explosive fireworks in the state.
Also on Tuesday, police raided factories making firecrackers without government licenses in Kerala state and seized 100 kilograms (220 pounds) of explosives from a warehouse in the town of Attingal near the temple site, the Press Trust of India news agency said.