India wants new foreign investment pacts to limit lawsuits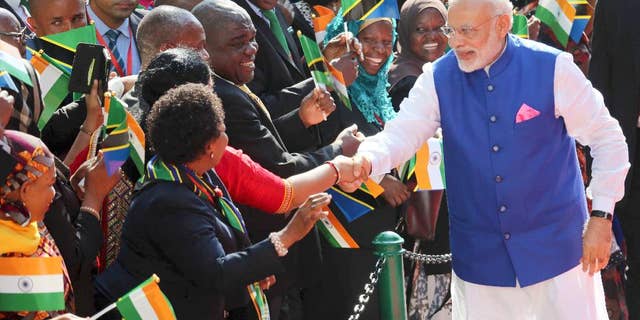 NEW DELHI – India has triggered the escape clause on dozens of bilateral investment treaties, aiming to renegotiate toward securing better protection from foreign litigation.
The notifications, issued earlier this year, effectively let governments know they have 12 months to broker new treaties before the old ones expire. The changes India seeks could make it harder for foreign investors to legally challenge government decisions that negatively affect their businesses in India.
But observers say the move could potentially backfire by spooking investors and ultimately jeopardizing Prime Minister Narendra Modi's top priority — bringing in new business from abroad.
Already some have voiced concern.
In a letter to India's commerce and finance ministers, the European commissioner for trade warned that India's notifying "a significant number" of European Union nations could "have serious consequences" if Brussels cannot negotiate a replacement by next April.
"It would create a gap in investment protection and consequently discourage EU enterprises from further investing in India," Commissioner Cecilia Malmstrom said in the letter, dated May 25. Some investors "may perceive the investment climate as deteriorating," while some may be unable to secure financing without treaty protections in place.
"Such an outcome would run contrary to the efforts of attracting more investment to India," the letter said. "I truly hope that India will not opt for such a radical policy shift with regard to investment from the EU."
Investment protection treaties have long been considered a prerequisite to doing business abroad. More than 3,400 such treaties have been brokered worldwide since the first U.S. investment treaties in the 1980s, according to the U.N. Conference on Trade and Development. These treaties generally lay out rules protecting foreign investment and assets. They codify how disputes should be handled, and often guarantee that a government will offer investors the best possible deal.
India may have surprised its investment partners in seeking to revise business relationships, but it is not the first to do so — and it is not alone.
Since 2012, according to UNCTAD, at least 60 countries have begun revising investment agreements, including South Africa, Brazil and Indonesia — all large, developing economies like India.
"Foreign investors are always coming from advanced economies, so they already have the upper hand," said economist and trade expert Biswajit Dhar, a professor at Jawaharlal Nehru University in New Delhi. "The countries that need more investment are the ones worried about giving too much away."
The trend among developing countries stems from a growing feeling that investment treaties, as initially designed by Western nations, give too much protection to investors without safeguarding a country's ability to manage policy or regulations. That puts countries like India — still working out how to exploit natural resources or farm out telecom licenses — at a disadvantage in working out their policies, analysts say.
Failing to negotiate replacements before old treaties expire wouldn't necessarily affect all business; existing investments would be covered by the old treaty for a period of about 10-15 years.
But new investments would not be protected, and for a job-hungry nation like India, that could be a problem.
India has been aggressively courting foreign investment and manufacturing to boost its economy. Since taking office in 2014, Prime Minister Modi has spent much of his time visiting foreign capitals and touting his "Make in India" campaign showcasing the country as a manufacturing destination — with its large labor force, young population and investor-friendly tax regimes.
Yet, India remains at the low end of the World Bank's ease of doing business ranking, currently placing 130th out of 189 countries surveyed. While foreign investment shot up to more than $44 billion in 2015 — a 65 percent jump from when Modi took office — the manufacturing drive so far has had lackluster results. The sector accounts for about 15 percent of India's gross domestic product, while employing about 12 percent of the work force.
India entered into its first bilateral investment treaties as it was liberalizing its markets and courting foreign investment in the 1990s. Its first bilateral investment treaty, with Britain, went into effect in 1995, and was followed by more than 80 others.
The idea for renegotiating quickly took hold about five years ago, as it was hit by a series of lawsuits. In 2011, India lost the first case in international arbitration to Australia's White Industries, a manufacturer of metal components that argued that the cancellation of a contract with Coal India violated the terms of Australia's 2000 bilateral investment treaty with India.
Since then, more than a dozen cases have been filed against India, over issues such as retroactive taxation or canceled licenses. Britain-based Vodafone has a case pending with the International Court of Justice for arbitration over a bill for $2.5 billion that India's tax authorities say the company owes for a 2007 asset purchase, based on legislation passed only in 2012. And last month, an arbitration panel based in The Hague began adjudicating a similar dispute over retroactive taxation imposed on Cairn Energy, an oil and gas exploration company based in Scotland.
"India is understandably worried about being held hostage by investors," said Dhar, the New Delhi professor. "It is very bad publicity to get caught up in disputes where the government looks helpless."
Still, India's sudden move to renegotiate 47 treaties, by some reports, was jarring.
"It's a huge number," Dhar said. "I'm worried about how it's going to play out in the next year."
Modi's government had signaled its plans to renegotiate the treaties in 2015, when it adopted a new "model" pact by which it said all future bilateral investment treaties should be drafted.
"Our Cabinet has approved a bilateral model — the new terms," Finance Minister Arun Jaitley told The Associated Press recently in Beijing. "We are entitled to ask for a renegotiation, in terms of the new terms, of the changed agreement that we have drafted. And these will all be subject to negotiation with our foreign partners."
But in notifying dozens of governments this year, India's timing couldn't be worse. With the world economy reeling after Britain's vote to exit the European Union, governments may decide that negotiating new investment treaties with India is not a priority, analysts said.
Jaitley assured that the "structural changes" would not hurt business prospects. "These remain investor friendly," he said. The changes were being sought from "some governments," he said, but declined to say which or how many.
But the changes India seeks could mean negotiations take longer than India expects. India's treaty template deviates from others worldwide in a number of ways that will give investors pause, including removing the possibility of international arbitration over disputes relating to taxation or licensing.
Even in non-tax cases, under the new model treaty terms, foreign investors would have to exhaust all Indian judicial avenues for resolving a dispute before appealing for international arbitration. Given the notorious backlog in Indian courts, with some cases languishing for decades, this could prove an obstacle for investment.
It also does not include a most favored nation clause — a standard provision designed to ensure that investors are being given the best terms available.
Still, the new terms may not matter to investors if they can still envision profits through investing abroad.
"Some of these changes are inevitable, and this is not just India," said Sachin Chaturvedi, head of the Research and Information System for Developing Countries think tank in New Delhi. "What governments are doing are insulating the system from any kind of legal tangle they may end up in. And once the rules and regulations are streamlined, there will be more predictability for investors.
Even if India does manage to reach dozens of new bilateral investment agreements within a few months, analysts say it may do damage just by reneging on past agreements and forcing new negotiations with little time to spare.
"India doesn't really have the bandwidth to address all of the countries wanting to work in the country now," said Dipen Rughani, the immediate former chairman of the Australia India Business Council. "Modi's done a fantastic job of traveling around the world and garnering interest. But there are risks that have to be addressed."
Australia — which recently concluded more-comprehensive free-trade pacts with China, South Korea and Japan — has seen its talks started with India in 2011 on a comprehensive economic partnership agreement stall, though its $16-18 billion in bilateral business was still covered by an investment treaty in force since 2000.
"If this agreement is going to be revoked, then I think it's going to be very hard to attract the kind of investment" India is looking for, Rughani said.
___
Associated Press writer Joe McDonald in Beijing contributed to this report.
___
Follow Katy Daigle: www.twitter.com/katydaigle