India struggles with rebel threats during election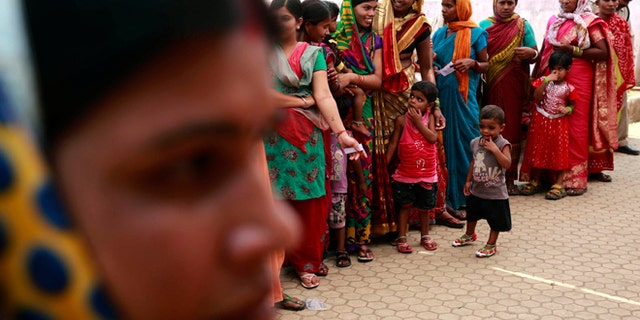 RAJNANDGAON, India – Indians cast ballots Thursday on the biggest day of voting in the country's weekslong general election, streaming into polling stations even in areas where leftist rebels threatened violence over the plight of India's marginalized and poor.
Nationwide voting began April 7 and runs through May 12, with results for the 543-seat lower house of Parliament to be announced four days later. Among the 13 key states voting Thursday was Chhattisgarh, now the center of a four-decade Maoist insurgency that has affected more than a dozen of India's 28 states.
With roadside bombings, jungle ambushes and hit-and-run raids, the rebels aim for nothing short of sparking a full-blown peasant revolt as they accuse the government and corporations of plundering resources and stomping on the rights of the poor.
But authorities say that, amid the bloodshed, there are signs that the rebels have waning support -- including lines of voters shuffling into polling booths in rebel strongholds.
"I want a good life for my baby, security and peace," said Neha Ransure, a 25-year-old woman who was voting in the Chhattisgarh town of Rajnandgaon. "The rebels are bad. They kill our soldiers. I don't go outside of town. It is too dangerous."
Rebels always threaten to disrupt Indian elections, and this year is no different.
The most recent attacks came Saturday, when two rebel bomb attacks killed 14 people -- five paramilitary soldiers, two bus drivers, two civilians and five teachers who were working as election officials. The insurgents apologized for the civilian deaths and reiterated a promise, often broken, to target only politicians and uniformed law enforcement officers.
More than 4,800 people, including about 2,850 civilians, have been killed nationwide since 2008 in what Prime Minister Manmohan Singh has called India's biggest internal security threat.
"There is contradiction in what the Maoists say, that they will do everything for the poor, but then blow up bridges and electricity poles," said 43-year-old mechanical engineer Alok Bakhshi, who was voting in Rajnandgaon.
Despite the rebel calls for an election boycott, voter turnout was 59 percent last week in the rebel's unruly heartland of Bastar.
"People are even boycotting the boycott," said the state's chief electoral officer, Sunil Kumar Kujur.
Authorities are trying new tactics such as staging polls simultaneously in rebel strongholds nationwide so insurgents cannot target voting on different days.
"Whether all of this strategy will work in the end, we shall see," Kujur said, acknowledging that the rebels "are still in a better position, more flexible and more violent."
The insurgents are referred to as both Maoists and Naxals, for the West Bengal town of Naxalbari where they first rose up in 1968, inspired by the founder of China's Communist government, Mao Zedong. Officially, they are called the Communist Party of India (Maoist) -- not to be confused with the Indian political party Communist Party of India (Marxist).
The rebels, believed to number about 10,000, have made strategic changes in recent years, becoming better armed and more sophisticated in communication technologies and guerrilla tactics, according to officials, political analysts and journalists who have spent time among them. The government has stationed some 30,000 paramilitary forces permanently in the state, and yet about 900 police officers have been killed in the last decade alone.
"The rebels' militarization has increased in recent years, but security forces have also strengthened," said R.K. Vij, the state's additional director general of police. "This is a transition stage. We know from intelligence sources that they are having trouble recruiting."
Despite the upheaval, the insurgency is seen as a local issue by the main candidates from the ruling Congress party and the opposition Bharatiya Janata Party, who rarely even mention it in their speeches. Some voters see that as a sign of neglect.
"The highest administration in Delhi doesn't care about helping us," 35-year-old school teacher Jugno Wadhwa said at a Rajnandgaon polling station.
The rebels' demands for an end to corporate land-grabbing, industrial pollution and commercial exploitation have helped them gain a foothold among local tribal Adivasis, an umbrella term for all of India's indigenous tribal inhabitants within rural jungle communities. The state of Chhattisgarh itself was formed only in 2000, carved from its western neighbor Madhya Pradesh based on its large tribal population.
But while mining operations have exploded in mineral-rich Chhattisgarh, many of its areas remain without schools, clinics and roads. Chhattisgarh is so little traveled that the Lonely Planet's 1,244-page guide to India contains only six pages on the state.
Analysts say the rebels' endurance through three generations shows there are at least some who find merit in their core argument: India's democracy and economic growth is either exploiting or leaving many of the country's 1.2 billion people behind.
"It's a strong movement, anchored among the people," said Gautam Navlakha, author of a 2012 book on the Maoists titled "Days and Nights in the Heartland of the Rebellion."
"Even people who are critical of the Maoists and their reckless killing, they do not deny the significance of the rebels and the issues they're raising," he said.