India hikes gold duties again to plug trade gap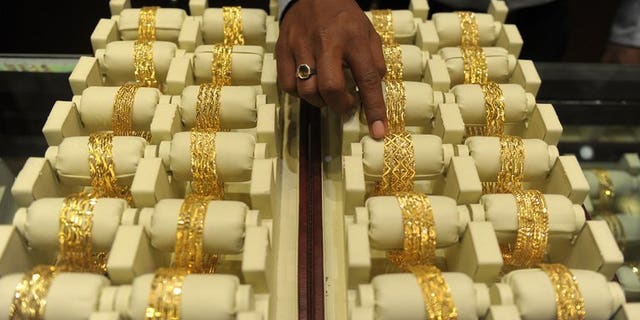 NEW DELHI (AFP) – India, the world's biggest buyer of gold, raised duties Tuesday on bullion imports for the third time since January as it seeks to narrow the trade gap and defend the rupee.
The government increased the customs duty to 10 percent from eight percent per 300 grams of the precious metal as it tries to break the country's love affair with gold
Gold is hugely popular in India, especially during religious festivals and wedding seasons.
There is "a need for compression in the import of gold and silver", Revenue Secretary Amit Bose told reporters.
The government announced an identical duty increase on imports of platinum and raised the duty on silver to 10 percent from six percent.
Bose said the hikes were part of steps to shrink the gaping current account deficit -- the broadest measure of trade -- which has caused alarm among international rating agencies and helped push the rupee to lifetime lows against the dollar.
The duty increases come a day after Finance Minister P. Chidambaram told parliament he was planning a string of fresh measures to try to stabilise the rupee.
The duty on gold stood at two percent in January 2012 and has been increased steadily since then, leading to a boom in smuggling.
Gold is the second biggest contributor, after oil, to India's current account deficit.
Even with the duty increases this year, India's gold imports last month rose to $2.9 billion from $2.45 billion in June.
The level is still down a third from a year earlier and India is expected to give up its crown as the world's biggest gold buyer to China this year.
Last month the central bank -- in a separate bid to cut the current account deficit, which it has labelled the biggest risk "by far" to the economy -- set new rules that 20 percent of gold brought into India must leave as jewellery exports.
Many Indians -- especially in rural areas where there are few banks -- also buy gold in the form of jewellery, bars and coins as a hedge against consumer inflation which has been stubbornly high.
Ratings agencies have threatened to downgrade India's sovereign investment rating to junk status unless the government improves the nation's finances.