India boosted despite weak Zimbabwe, says Kohli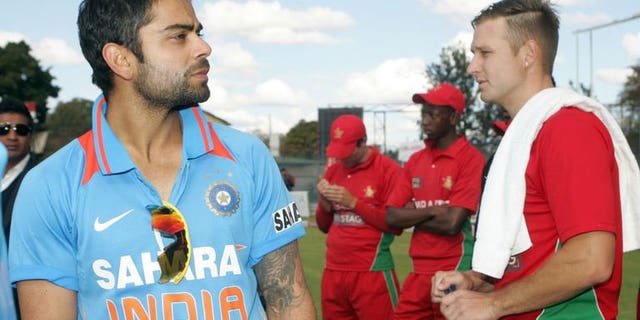 BULAWAYO, Zimbabwe (AFP) – India captain Virat Kohli believes that his young team will take plenty away from their 5-0 series sweep in Zimbabwe, despite the home side's inability to provide any meaningful challenge.
India completed their first whitewash in a five-match one-day series away from home on Saturday when they crushed Zimbabwe by seven wickets with 16 overs to spare, with leg-spinner Amit Mishra taking six wickets to lift his series tally to 18.
Zimbabwe's inadequacies with the bat meant that India were only briefly put under pressure during the second match, which they still won by 58 runs, but Kohli insisted that the five outings had nevertheless been beneficial.
"There are a lot of positives we could take out of this series, especially the way the young guys performed," he said. "The guys who got a chance for the first time showed a lot of character, especially bowlers like Mohit Sharma and Jaydev Unadkat.
"Amit Mishra came out with 18 wickets in this series, so there were a lot of great performances by individuals and some good team efforts as well."
So comprehensive was India's success in the series that the only criticism that could be levelled at Kohli was his reluctance to handicap his own side either by going against conventional wisdom by batting first in trying conditions, or by giving more opportunities to their less experienced players.
All-rounder Parvez Rasool stood to become the first cricketer from Jammu and Kashmir to represent India, but he failed to see action in the series and his omission on Saturday drew criticism back home from the chief minister of the region, Omar Abdullah.
"We didn't want to take any game lightly and I didn't want to change too much in the bowling department," Kohli said.
"Mishra has been out for a while so we wanted to give him four or five games, and Parvez is going to South Africa now for the India A tour and he's going to play a lot of games there and pick up more experience."
The manner of Zimbabwe's defeat was tough for new coach Andy Waller to swallow, but he remained confident that his players had benefitted from the experience.
"We've worked hard but we've still made mistakes that we don't want to make," he said.
"It's not something we can turn around in two or three months -- I'm not trying to make excuses, but it's a long process."