India asks states to start food scheme rollout next month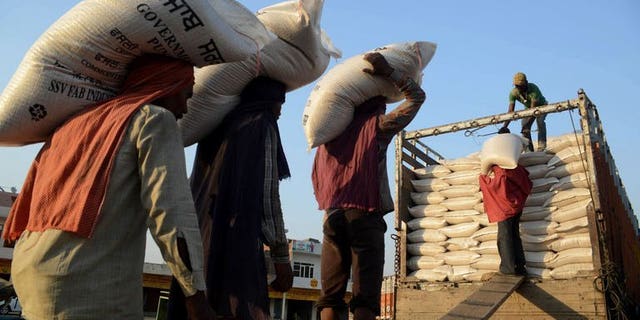 NEW DELHI (AFP) – India's ruling Congress party chief Sonia Gandhi on Saturday asked states to start rolling out next month a flagship cheap food scheme seen as key to government hopes of winning a third term in office.
The subsidised food programme will be the world's largest -- offering grains to nearly 70 percent of the population, or 820 million people, at a fraction of market prices.
Gandhi asked the 14 Congress-ruled states to implement in "letter and spirit" the plan to broaden the food safety net for the poor as the party readies for the 2014, a party official, who did not wish to be named, told AFP.
The request came at a party meeting in New Delhi attended by Gandhi, Premier Manmohan Singh, party strategists and Congress state chief ministers.
Congress-ruled Delhi would be the first to roll out the program on August 20 -- the anniversary of the birth of Gandhi's husband, former premier Rajiv Gandhi who was slain by a suicide bomber in 1991, the official said.
Gandhi urged Congress-ruled states to become "role models" in implementing the measure with such states as Karnataka and Uttarakhand expected to be among the next to start the scheme after Delhi.
The scheme has been pushed by Gandhi to honour a 2009 election pledge and is a crucial plank of the re-election strategy of the left-leaning government, buffeted by a string of corruption scandals and slumping in opinion polls.
Congress credits two earlier populist schemes -- a massive loan waiver for farmers and rural jobs creation programme -- as vital to its 2009 re-election.
"Populism is part of the Congress's DNA -- it believes this food scheme will help it with voters," Subhash Agrawal, head of think-tank India Focus, told AFP.
Despite being an aspiring superpower, malnutrition is widespread with 46 percent of India's children below three malnourished, UNICEF says.
But critics say India can ill-afford such an expensive scheme with its big deficit and economic growth slowing sharply and warn the program will only expand a public distribution system already riddled with corruption.
The scheme would hike the annual food subsidy bill by $3.8 billion to around $20 billion.
The program, which Congress wants in place before the polls due by next May, was expected to be cleared by parliament but was never introduced due to political battles.
The government finally passed the scheme using an emergency order, but parliament must still eventually approve it.
Opposition parties, which back the plan in principle, have attacked the government for ramming it through, saying there was insufficient discussion of its implementation.
Some critics say the money would be better spent on sanitation so Indian children are no longer are afflicted by chronic diarrhoea which stops them absorbing nutrients and kills thousands yearly.