In Venezuela, private bodyguards now more common but increasingly targeted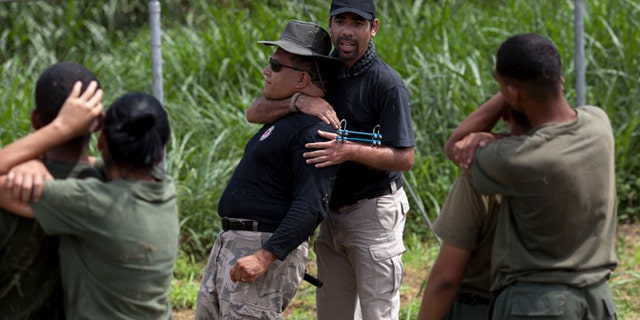 CARACAS, Venezuela (AP) – Julio Delgado spends his days in his employer's armored SUVs and fortified mansion. Each night, he returns to his concrete home outside the capital, where he lives exposed to Venezuela's stew of violence.
Delgado, who directs security for the family of a powerful automobile importer, is among the private bodyguards who are becoming more common — and increasingly targeted — as Venezuela is hit by an epidemic of crime.
With the country's oil-based economy crumbling, the number of poor is growing, as is the gap between those barely scraping by and the wealthy who hire guards to protect themselves from thieves and kidnappers.
Guards like Delgado make a precarious living. Both on the job and off, bodyguards now are forced to take greater risks to guard their employers and also to protect themselves from bandits who covet their weapons and vehicles.
In 2014, more than 100 government-affiliated bodyguards were killed in Caracas, according to a tally kept by a major newspaper. The dead included at least six members of Venezuela's presidential guard, most slain in apparent robberies gone wrong. The bodyguard of Venezuela's first lady was among them. Many more bodyguards already have been killed in 2015, including the men guarding a governor, a minister and a mayor.
"This is an ungrateful profession that leaves you with scars," he said.
The 36-year-old Delgado came close to being among last year's fatalities. One night while riding his motorcycle home, he got into a rolling gun battle with bandits eager to grab his gun and means of transportation. He escaped, but was badly injured in the fight.
Guards with steady jobs, albeit modest salaries, are seen as relatively well-off by thieves.
Delgado, for one, earns $250 a month, twice what an average bodyguard might earn and six times more than a Venezuelan working for minimum wage. The salary enabled him to leave the hillside shantytown where he grew up and move with his wife into a concrete home in the village below. His neighborhood of steep, broken streets is dotted with makeshift shacks. The threat of robbery is pervasive; iron bars guard windows even on the third stories.
He tells no one he's a security guard. Neighbors, he said, believe he's a hairdresser with a salon in Caracas. Training is done in private, sparring with an old pair of car tires where no one can see.
"There's a price for coming down from the slums," says Delgados' wife, Yurmi. "People are envious."
Soaring crime has given Venezuela the second-highest homicide rate in the world, outside of a warzone, according to the United Nations. It's also increased the demand for guards like Delgado, and helped them gain legitimacy.
Venezuela's wealthy increasingly have turned to private guards as public police forces have proven to be inept or corrupt. Venezuelan officials have said publicly that 20 percent of the country's crimes are committed by police.
When he started out 15 years ago, guards were called "lavaperros," or dog washers, after the menial chores they were expected to perform. Delgado says nearly all of his bosses have been "vagabundos" — deadbeats, ordering him to clean the pool, scrub the patio or run to the pharmacy.
Delgado has been an advocate for his profession. He teaches classes for fellow bodyguards, and a few years ago, helped found an association of security workers that lobbies for improving their standing and protections, mostly their right to bear arms. Venezuela banned the sale of guns for everyone but police and some security companies in 2012.
But problems within the guard ranks remain. Delgado estimates a quarter of his colleagues commit violent crimes in their off hours to make up for their meager salaries. In October, the country was scandalized when a young congressman was found slain in his home, allegedly by his own bodyguards.
Meanwhile, crimes against guards have become so common one of Venezuela's most popular websites dedicated a section to cataloguing the slayings of high-profile bodyguards.
As the risk of his profession has grown, Delgado has come to rely on the fatalism that reigns in this country where virtually everyone has been touched by violence. Matter-of-factly, he recalled the many colleagues who have been killed, leaving their wives as widows.
"I've always told myself, 'When the moment comes, I'll go with Papa Dios,'" he said, referring to God. "That's helped me be brave."
As he spoke, his wife sat on their couch, staring off into a painting of a colonial landscape, pressing her teal-colored plastic fingernails into her palms.
"Living like this uses you up," she said. "Maybe, one day, God will guide him into another kind of work."
Like us on Facebook
Follow us on Twitter & Instagram