In the Persian Gulf, Iran's drones pose rising threat to US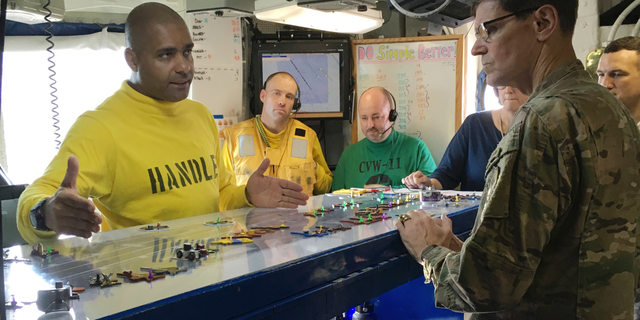 ABOARD THE USS NIMITZ – The presence of Iranian drones high above the Persian Gulf but relatively close to Navy aircraft and ships is worrying U.S. commanders.
In one episode described by U.S. commanders, an unarmed Iranian drone crossed the path of American fighter jets lining up to land on an aircraft carrier, the USS Nimitz.
The biggest fear of commanders is the surveillance aircraft will start carrying weapons. That would pose a more direct threat to U.S. vessels transiting one of the world's most significant strategic and economic international waterways.
The commander of the carrier strike group that includes the Nimitz, Navy Rear Adm. Bill Byrne, says it's just a matter of time before the Iranian drones begin to carry weapons. Byrne says Iranian drone activity is becoming an increasingly pressing matter of concern.