In Spain, far-left mayors take Madrid, Barcelona in historic turn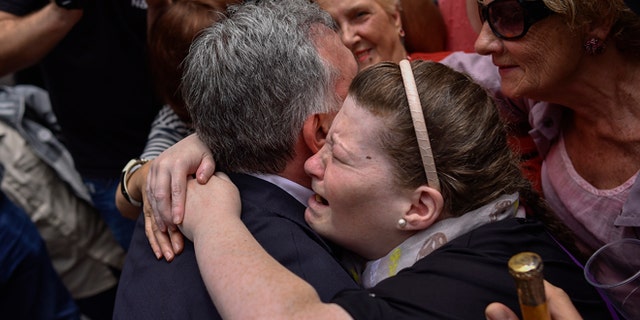 MADRID – Spain's biggest cities -- Madrid and Barcelona -- were completing one of the nation's biggest political upheavals in years Saturday by swearing in far-left mayors. The radical leaders have promised to cut their own salaries, halt homeowner evictions and eliminate perks enjoyed by the rich and famous.
The landmark changes came three weeks after Spain's two largest traditional parties were punished in nationwide local elections by voters groaning under the weight of austerity measures and repulsed by a string of corruption scandals.
In Madrid, 71-year-old retired judge Manuela Carmena was sworn in to cheers from jubilant leftists who crowded the streets outside city hall shouting "Yes We Can!" as they ended 24 years of city rule by the conservative Popular Party, which runs the national government.
"We want to lead by listening to people who don't use fancy titles to address us," Carmena said after being voted in as mayor by a majority of Madrid's new city councilors.
Carmena has vowed among other things to take on wealthy Madrilenos who enjoy exclusive use of the city-owned Club de Campo country club -- opening it up to the masses. "We're creating a new kind of politics that doesn't fit within the conventions," she said before being voted in. "Get ready."
In Barcelona, anti-eviction activist Ada Colau was expected to be sworn in Saturday evening as the city's first female mayor.
Colau has questioned whether it's worth spending 4 million euros ($4.5 million) of city money to help host the glitzy Formula 1 race every other year. She thinks the funds would be better spent on free meals for needy children at public schools.
Carmena and Colau ran for office as leaders of leftist coalitions supported by the new pro-worker and anti-establishment Podemos -- "We Can" -- party formed last year. It is led by the pony-tailed college professor Pablo Iglesias, a big supporter of Greece's governing far-left Syriza Party.
Iglesias smiled from a balcony inside Madrid's city hall as he watched Carmena being sworn in, then pumped his arm into the air with a clenched fist as he celebrated the victory with others on the streets.
The left's takeover of Madrid, Iglesias said, is the goal his party has nationally for general elections that must be called by Prime Minister Mariano Rajoy by the end of the year.
"Our principal objective is to beat the Popular Party in the general elections," he said.
The political fragmentation propelling Carmena and Colau into office marks a historic moment in Spanish politics, said Manuel Martin Algarra, a communications professor at the University of Navarra who specializes in public opinion.
"Madrid and Barcelona for the first time are not going be governed by political parties, but by coalitions made up of social movements," he said. "This was a punishment vote to the traditional political establishment in Spain."
For Carmena's Ahora Madrid -- or "Madrid Now" -- coalition with the Socialist Party, that means a mandate to roll back moves by the Popular Party to privatize city services, as well as carry out audits of the city's debts and contracts awarded to private companies seen as political cronies, said Pablo Carmona, an incoming Madrid city councilor.
The coalition also wants to set up a municipal anti-eviction division, create a housing bank of vacant apartments for needy residents and provide cheap quality daycare to working class families.
Before becoming a judge, Carmena was a labor lawyer defending worker-rights activists detained during the dictatorship of Francisco Franco that ended in 1975. The law firm she co-founded was targeted by a right-wing extremist who killed five of her colleagues and wounded four in an attack in 1977.
In Barcelona, the 41-year-old Colau is best known for leading the Platform for People Affected by Mortgages, formed in 2009 to fight evictions of crisis-hit homeowners who under Spanish law must still repay much of what they owe to lenders even after losing foreclosed homes.
Colau, who will be Barcelona's first female mayor, has raised eyebrows by siding with residents who say their neighborhoods are unlivable because the city has too much tourism. The main complaints are passengers disembarking from cruise ships and visitors who stay in illegally rented apartments.
"If we don't want to become Venice, some sort of limit on the tourism burden will be needed in Barcelona," Colau told the leading El Pais newspaper. "We can grow more, but I don't know how much."
There's no way of knowing how much Carmena and Colau will shake up the status quo because their coalitions are "groupings of people with different opinions and very little political experience who are going to try new things and some of them will not be viable," said Martin Algarra.
But Colau said new things are exactly what voters want.
"In Barcelona," she said, "a bet was made for change."