In secular India, a lethal mix of religion and politics sends brawls spiraling into riots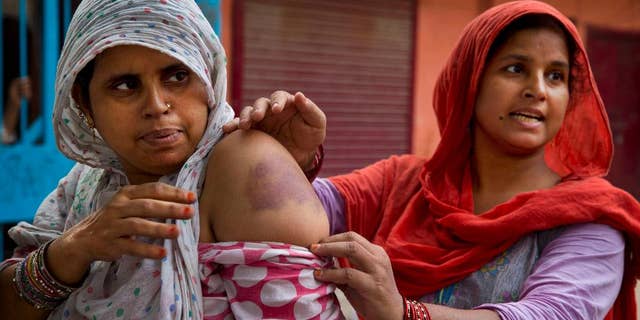 NEW DELHI – First, the rumors start. Maybe a Muslim man threw garbage outside a temple, or a Hindu boy teased a Muslim girl. No one has any names or specifics, but that doesn't stop people from taking the rumors as fact. Crowds gather on both sides. Slogans are shouted, stones are thrown. A car goes up in flames.
And just like that, or so it seems, a religious riot rips through an Indian neighborhood.
Thirty years after the notorious anti-Sikh riots in 1984 — the worst communal violence since the bloodshed that followed the partition of the subcontinent at the time of India's independence in 1947 — religious conflagrations are still surprisingly common in a secular country where tolerance is enshrined in the constitution.
But while religion may spark violence in this diverse country filled with religious and cultural tensions, it is often politics that allow it to spiral out of control.
Political parties across the spectrum have used religious differences to manipulate both the country's majority Hindus and its Muslims and other minority groups, exploiting the idea that a polarized electorate is often more pliable.
The most recent riots erupted late last month in Trilokpuri, a largely poor neighborhood on the eastern edge of New Delhi. The fighting started on the evening of Diwali — the Hindu festival of lights — after a drunken brawl broke out near a makeshift Hindu shrine set up across from a mosque.
For hours, large groups of men fought pitched street battles, hurling rocks and stones at each other and injuring dozens of people. A Muslim-owned shop was set on fire, Hindus pelted the mosque with stones, and dozens of angry Muslim men attacked Hindu homes.
Beyond that, the stories vary depending on which religious group you ask. Local Hindus say some drunk Muslim men smashed liquor bottles near the shrine. Muslims say the brawl was between Hindus and Muslims who had been drinking together, and that such fights are common in the neighborhood and usually settled quickly by police.
This time, however, the brawl inflamed religious tempers on both sides. Hindus and Muslims blame each other for starting the violence, but they agree that police arrived only after the worst was over. Police defend their response, though they concede it took them hours to intervene.
Even now, two weeks after the fighting broke out, there is an air of unease in Trilokpuri. Many of the small brick homes are locked up and empty; the residents have sought safety with friends or relatives in other parts of the city. Small knots of police are everywhere.
It's not clear how a local brawl erupted into a full-blown riot within hours, although politics is certainly on everyone's mind. In a few months, Trilokpuri and the rest of the Indian capital will go to the polls to elect a new state legislature.
This wasn't Trilokpuri's first riot, or its worst.
In 1984, Nazar Singh, then 20, watched his father's mutilated and charred corpse lie beneath a street light for three days, too afraid of marauding rioters to retrieve his body.
His father was among hundreds of Sikhs butchered in Trilokpuri, the scene of some of the worst rioting that swept the country after Prime Minister Indira Gandhi's Sikh bodyguards assassinated her on Oct. 31, 1984. Mobs of Hindus went from house to house across northern India, pulling Sikhs from their homes, hacking many to death and burning others alive.
"They came with iron rods and knives and swords. They pulled him out of the house, cracked his skull and sliced open his stomach. Then they took kerosene from inside our house and poured it over him and set him on fire. My mother saw it all happen in front of her eyes," he says.
"The police stood and watched."
Largely-Hindu India's constitution promises equality and religious freedom to all its citizens, but politics and religion have a complex and troubled relationship in this diverse nation of 1.2 billion.
"Controlled violence creates an obliging polarized electorate," says Mukul Kesavan, a historian at the Jamia Millia Islamia university in New Delhi.
In elections about two months after the 1984 riots, Gandhi's Congress party won its largest victory ever. Victims identified Congress party members as leaders of many of the bloodthirsty mobs. News reports from that time said that the police did little or nothing to end the violence. Yet three decades later, only a few people have been prosecuted.
Rights groups say the seeds of India's religious riots were likely sown in the violence of 1984 and the lack of accountability and justice in their wake.
"The Indian government's failure to take even rudimentary steps to bring to justice the authors of the 1984 violence has perpetuated a climate of lawlessness," Meenakshi Ganguly, the South Asia director of New York-based Human Rights Watch, said in a recent statement.
"Thirty years since the horrific massacre," Ganguly said, "communal violence still breaks out in India, raising the same concerns about accountability."
Politics have cast a shadow over many of the large-scale riots in the ensuing years.
In 1992, tens of thousands of Hindu extremists razed a 16th-century mosque in northern India, claiming that it stood on the birthplace of the Hindu god Rama. Nearly 2,000 people were killed across the country in the riots that followed.
The religious polarization that followed saw the right-wing Hindu Bharatiya Janata Party emerge as the single largest party in India's Parliament. The Congress and other regional parties courted Muslim votes by painting themselves as defenders of minority rights.
In 2002, the western Indian state of Gujarat erupted in violence when a train filled with Hindu pilgrims was attacked by a Muslim mob in a small town. A fire erupted — it remains unclear whether it was arson — and 60 Hindus burned to death. In retaliation, more than 1,000 people, mostly Muslims, were killed in the state.
Narendra Modi, now India's prime minister, was Gujarat's chief minister at the time. In elections that followed the riots, he played up his image as a defender of the state's Hindus and won a resounding victory.
In each case, victims accused the government and police of doing little to stem the violence.
"India may be a secular nation but the instruments of the Indian state are fairly majoritarian," Kesavan said.
The aggressiveness of mob behavior is "always based upon how much patronage the state will give you," he said. "There is a very clear signal from the state."