In massive raid, FBI arrests alleged members of East L.A. gang with ties to Mexican Mafia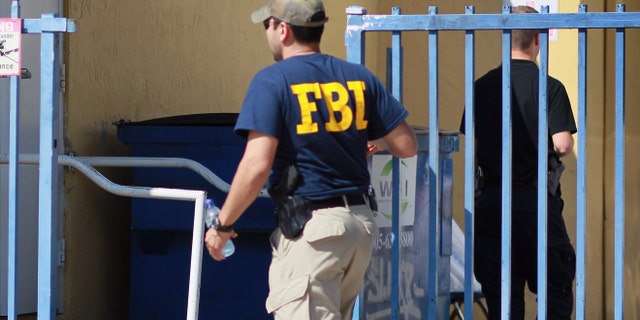 An early morning massive raid Wednesday by FBI and other law enforcement agents in East Los Angeles led to the arrest of dozens of purported gang members with alleged ties to the notorious Mexican Mafia prison gang.
The federal racketeering indictment names 38 suspected members of the Big Hazard gang who are accused of crimes ranging from drug dealing to robbery to murder.
The raids led by the FBI and Los Angeles police nabbed 25 of those named in the indictment and five were being sought, according to the Los Angeles Times.
Seven others were already in custody, and one was killed in a shooting over the weekend that remains under investigation.
The U.S. attorney's office scheduled a news conference to discuss the charges and the search for evidence related to the gang.
The indictment names four unindicted co-conspirators it says are Hazard gang members serving life sentences in prison and are "made members" of the Mexican Mafia who issued orders from behind bars. The Mexican Mafia controls drug dealing and crimes by Latino gangs inside and outside of prison, and gang members dealt methamphetamine, crack cocaine and heroin, the indictment said. The gang collected "taxes" from other dealers and also sold guns.
Believed to have about 350 members, the Big Hazard gang is headquartered in the Ramona Gardens housing project and got its start in the 1940s, the indictment said. It took its name from nearby Hazard Park.
Based on reporting by The Associated Press.
Like us on Facebook
Follow us on Twitter & Instagram