In Hard-To-Believe Yarn, Fugitive Cuban Migrant With Long U.S. Criminal Record Is Finally Caught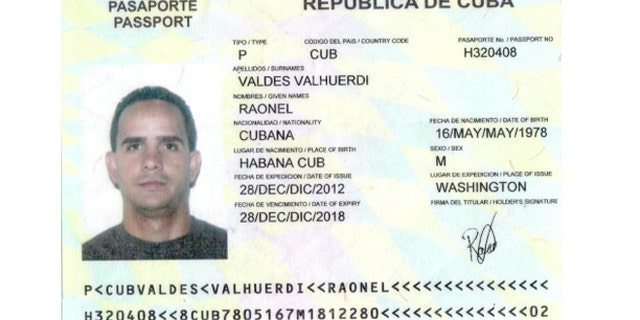 NEWYou can now listen to Fox News articles!
Raonel Valdez was out on bail in Miami in December 2012 for his role in a $2.8 million gold heist, when the ankle device monitoring his whereabouts suddenly went dead.
A Cuban immigrant who has avoided deportation thanks to the U.S. liberal policy allowing a smooth immigration process for Cubans, Valdez purportedly escaped into the vast expanse of the Caribbean on a 30-foot blue speedboat he stole in the Florida Keys. The manhunt for Valdez that ensued turned up rumors of him on small islands throughout the Bahamas and near Central America, but every time authorities thought they were close, the crook disappeared into the blue.
"We felt that we were going to catch him at Cat Cay," David Bolton, a Florida-based private investigator working on the case, told Fox News Latino of the manhunt in the Bahamas. "But he slipped away again."
But in the end, he got caught. Officials in Belize found him hiding in the bushes near the country's border with Guatemala.
Belizean immigration officials found the 33-year old Valdez outside the small border town of Benque Viejo, carrying an unmarked Cuban passport, a cellphone and over $2,000 in cash.
Authorities in the small, English-speaking Central American country charged Valdez with illegal entry, arraigned him and charged him $2,000, but were unable to deport him to neighboring Guatemala because he did not have a stamp in his passport for that country.
After being sent to jail for six months on immigration charges, Belizean authorities began to look into the mystery man and a search revealed that Valdez was wanted by the U.S. Marshals Service for his involvement in the gold heist.
The U.S. Marshals Service confirmed to Fox News Latino that Valdez has been detained in Belize on immigration charges, but could not provide any more details into the matter. There is no word on who, if anyone, will receive the $25,000 award for his capture.
Valdez came to the U.S. in 2005, quickly obtaining a social security card and driver's license in Florida thanks to the Cuban Adjustment Act, which essentially grants undocumented Cubans reaching U.S. soil nearly-guaranteed legal status, and soon began a criminal career in the country.
He earned his first charge in June 2007 when he was busted for marijuana possession and granted parole.
The next year, cops found 85 grams of methamphetamine under the hood of his car and in July 2008 he was arrested for aggravated assault with a deadly weapon after he attacked security guards at a Home Depot where he was attempting to steal an $18 pair of garden shears.
Bonded out of the assault charge, Valdez decided that prison time wasn't for him and he fled to Mexico, where he soon ran afoul of authorities and was eventually arrested on charges of human smuggling for bringing people from Cuba to Mexico.
After he teamed up with the U.S. Drug Enforcement Administration to kidnap a high-ranking Zetas drug cartel member but which failed because they netted the wrong guy, he wound up back in Miami where U.S. Customs and Border Protection arrested him at Miami International Airport for missing a 2008 court date.
While Florida Judge Victoria Brennan let him walk free for time served, Valdez soon racked a string of offenses in the next year, including another drug possession charge for operating a Miami marijuana growing operation, abusing the mother of his 2-year-old daughter and getting slapped with a felony armed robbery charge that earned him a GPS tracker.
Then came the armed gold heist that netted 110 pounds of gold flakes – valued at nearly $3 million – from an unsuspecting, sickly courier, George Villegas, who was on his way to deliver the precious metals to a refinery.
The GPS tracker on his ankle showed Valdez casing an apartment complex where he allegedly swiped $2.8 million worth of gold off of Villegas. It showed when he entered the building. It showed him for five days afterwards peddling the gold to various pawn shops in Miami-Dade County and buying a girlfriend a 2008 Toyota Yaris.
The fact that Valdez walked free on such low bail, despite all the mounting evidence, baffles the minds of the owner of the export company whose gold was stolen, and to investigators looking into the case.
"We still don't understand how a person with such a record and after robbing more than $2 million benefited with such a low bond," said Guy Vargas, the president of Quri Wasi, the export company, said by email to Fox News Latino in August of last year. "We were perplexed by what happened and of course we were sure that, with that background, sooner or later he would escape. And that's what happened."
When Belizean officials found out that Valdez was wanted in the United States, they contacted the private investigator, Bolton, who in turn notified U.S. authorities.
Bolton said that Valdez should be deported back to Miami soon and speculated on whether he would be granted bail again.
"There is no way in hell," Bolton said. "I think the community would be outraged."