In First U.S. Trip, Cuban Dissident Yoani Sanchez Vows To Turn Up The Heat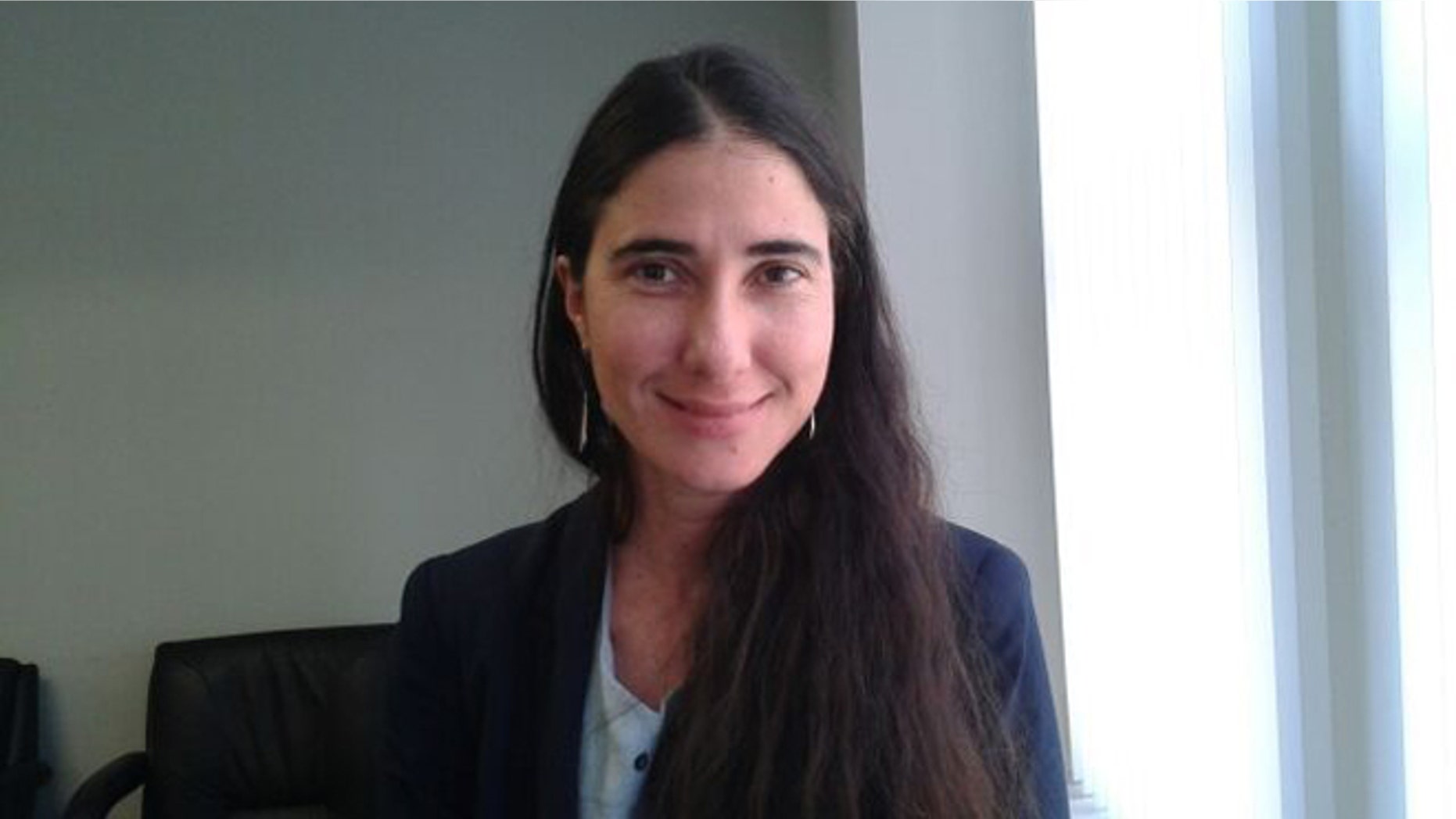 In the eyes of Yoani Sanchez, Cuba's most famous cyber-dissident, her government is trying increasingly futile methods to fight the modern world.
"The Cuban government is using 20th century methods because they don't comprehend that the world has changed," said Sanchez, 37, Friday morning to a group at an intimate gathering at the Manhattan office of the Committee to Protect Journalists.
"The Cuban government still believes that its antiquated methods can stifle the momentum and efforts of the modern world."
Sanchez is perhaps Cuba's best known dissident on the Internet and on social media in particular — she has nearly 450,000 Twitter followers and her blog, Generation Y, is available in at least 20 different languages — to challenge the country's Communist regime and tell the world of its failures and moves to silence critics.
The Cuban government still believes that its antiquated methods can stifle the momentum and efforts of the modern world.
"It's a crime to express opinions, or even put out information," said Sanchez, who stands 5-foot-2 with long, black hair. She eschews make-up and prefers a natural, earthy style. "All independent journalists are, really, political prisoners in Cuba."
But the Cuban government's dogged efforts to silence -- or at least intimidate -- its agitators only manages to energize Sanchez, she said.
Once the world tour is over and she heads back home to Cuba in about two months, it's not surprising that the ever-busy Sanchez has yet another project in the works. She plans to launch a new news Web site.
"I want it to be a must-read, a place where Cubans will have what they don't know, and a place where they can learn about their own country," she said.
This is her first visit to the United States. It is her fifth stop on a world tour that includes Europe and Latin America. Her visit was an important symbol of Cuba's loosening of some restrictions, with President Raul Castro announcing late last year that he was going to for the first time allow Cubans to travel – under a set of criteria – outside the island.
Sanchez is cautioning those who hear her not to see the new travel policy as a sign that the island's regime is turning a corner toward more openness and less oppression.
"This is not the migratory reform we had sought," Sanchez said at the meeting, speaking in Spanish though she knows English and several other languages. "It's not said anywhere that every Cuban can travel. Now you have to have permission to get a passport."
She said the lifting of travel restrictions wasn't a humanitarian move — more like succumbing to political pressure.
"This is not, also, something the regime decided to do because one day they woke up better human beings," Sanchez said. "This came about because we, the critics, the ones who kept demanding change, snatched from them."
Sanchez said oppression under Raul Castro is different from that of his brother Fidel. Fidel Castro, she said, was almost theatrical about his denunciation and intolerance of political dissent.
"Under Raul Castro, it's done more under the radar, it involves cutting off technology – for example, shutting down cell phone service for dissidents when the pope visited," she said.
Sanchez, whom Cuban authorities arrested or detained various times for her anti-government activism, has managed to rally supporters worldwide who help her distribute her dispatches, since direct access to technology in Cuba is limited.
"Twitter, in particular, has changed my life," Sanchez said in an interview with Fox News Latino later in the morning. "It gives you real-time ability to communicate."
The University of Havana graduate sees herself primarily as a journalist, with a calling to expose wrongdoing — regardless of the consequences.
Time Magazine called her one of the world's 100 most influential people, and she has received numerous human rights and freedom of speech awards — though she has been unable to personally accept them because Cuba had refused to authorize her travel outside the island.
Sanchez said she has asked for permission to travel no less than 20 times in the last five years — only to be denied every time.
Sanchez said international support for her and other dissidents does make a difference, albeit in fits and starts, in chipping away at human rights abuses.
When she visited Brazil and Mexico on this journey, she was met with protesters, some holding large signs that said "Viva Fidel." She said that they were organized by the Cuban government, which, she said, gathers people to engage in so-called "acts of repudiation" against people who criticize the regime.
Ted Henken, a professor at Baruch College who has authored books on Cuba and is handling Sanchez's travels in the United States, said that Sanchez's message will reverberate even more now that she is delivering it in the flesh.
"In Cuba, they could try to control it," he said. "But when people like Yoani are outside, talking to people directly, they can't control it."
In an interview with Fox News Latino after the CPJ meeting, Sanchez said she feels nervous about her outspokenness, even as she refuses to let it stop her.
"It is scary, I'll be honest," she said. "I tell my son that expressing your opinion gets you into trouble, but then I tell him 'It's wonderful to express your opinion and get into trouble.'"
This U.S. trip marks another special milestone for Sanchez – the first time meeting Cuban exiles.
"It's been very emotional for me," she said. "They make them out to be people who don't really care about the average Cuban on the island, and I am meeting them and finding love and support."
Not all exiles are happy with her — some don't like her opposition to the U.S.-Cuba embargo, which is still backed by the largest Cuban exile community in Miami. Sanchez often has acknowledged the confusion many feel over critics of the Castro regime who also oppose the embargo.
She opposes the embargo, she said, because Cuban authorities use it as an excuse for their failed policies.
"The five decade prolongation of the 'blockade' has allowed every setback we've suffered to be explained as stemming from it, justified by its effects," Sanchez wrote several years ago. "To make matters worse, the economic fence has helped to fuel the idea of a place besieged, where dissent comes to be equated with an act of treason. The exterior blockade has strengthened the interior blockade."
A small group of Cuban-American embargo supporters have called for a protest against Sanchez when she visits Miami in April. Other Cuban-Americans have urged them not to do it.
"It doesn't bother me, really," Sanchez said. "I see it as freedom of expression, as a lively, healthy, public debate, which I fight for, no matter where it is."