In country where water is pricier than beer, Czech official seeks change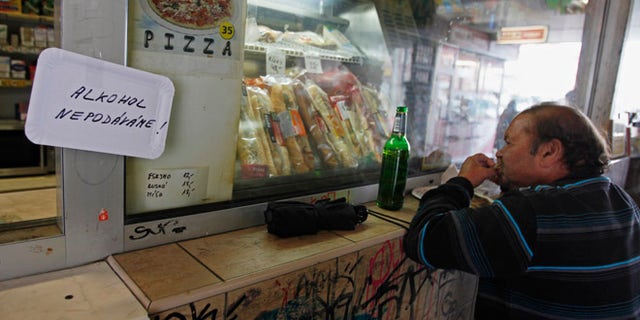 In most restaurants and taverns across the Czech Republic, a mug of beer is, literally, cheaper than water. The country's health minister wants to change that as he tries to put Czechs on a lower-hops diet.
It won't be easy. Here in the birthplace of pilsner, beer is known as "liquid bread." Czechs drink an average of 37 gallons of the stuff per person per year, the highest per capita consumption in the world and more than double U.S. levels.
Pub patrons go through the sudsy amber liquid so fast that the nation's largest brewer, SABMiller unit Plzensky Prazdroj, maker of famed Pilsner Urquell, delivers beer with the kind of tank trucks used to haul gasoline, and pumps it into bars' storage vats.
"Beer is like mother's milk for adults," said Marek Gollner, a 36-year-old computer programmer and regular customer at the U Zelenku pub in the Prague suburb of Zbraslav. "For a Czech, it's like wine for a Frenchman or vodka for a Russian."
Faced with such attitudes, Health Minister Leos Heger's campaign to make Bohemia a bit less bohemian is starting with baby steps.
He wants to require restaurants and bars to offer at least one nonalcoholic beverage at a price lower than that of the same amount of beer, primarily to offer teens, who can legally drink at 18, an alternative. The easiest thing to do, Dr. Heger said, would be to offer patrons pitchers of tap water.
Even that has some tavern keepers foaming.
"It ticks me off," said Eleni Atanasopulosova, 34, the manager at U Zelenku. "There are more pressing issues. People are struggling to find work. The government should do something more important."
Dr. Heger, a 64-year-old radiologist who likes to toss back a few himself, attributes such resistance to a general Czech dislike of government regulation, a legacy of the country's decades under repressive communist rule.
"It's important to speak against social engineering," Dr. Heger said. "We don't want to suppress smoking and drinking among adults. It's their right." He added: "I'm not against alcohol consumption. It just has to be reasonable."
The minister's relatively modest proposals, which also include raising the penalties for serving alcohol to minors and measures to limit indoor smoking, haven't even been approved by the cabinet yet, let alone been considered by Parliament. He hopes his latest push will spark a national conversation on the place beer holds in Czech society.
"Beer is really widespread, with very deep roots…It's a well-anchored, important part of everyday life," said Jiri Vinopal, director of the Czech Academy of Sciences' Public Opinion Research Center. "It's always been that way. Since the Middle Ages people here have made beer their primary drink."
For that reason, Mr. Vinopal said, any change in regulations affecting beer "is a very sensitive subject."
For at least a thousand years, beer has been a staple in the Czech lands, and the country's native hops are renowned for being aromatic and bitter. St. Wenceslas, a martyred 10th-century Czech nobleman, is a patron saint of brewing and malting, in addition to being the patron saint of the nation.