Immigration: Border Patrol Agents Arrest More Than 200 Immigrants Hiding In Texas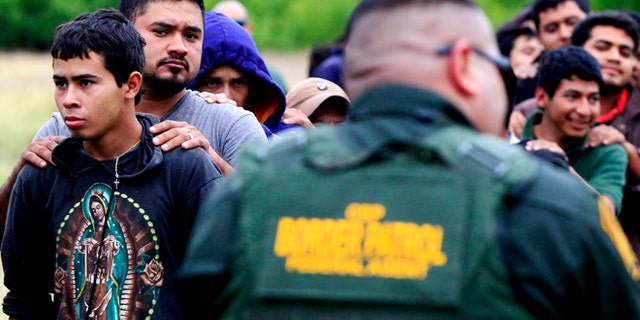 McALLEN, Texas (AP) — At least 80 immigrants suspected of entering the United States illegally were arrested in a makeshift encampment in suburban South Texas.
They were found in an undeveloped patch of scrub near an abandoned tennis club in McAllen. They were camped under tents and huts camouflaged with mesquite branches and cacti. Some told authorities they had been there sleeping on pieces of cardboard with little food or water for at least a week.
It was unclear whether any of those arrested Thursday afternoon were guides suspected of guarding the immigrants, Border Patrol spokesman Danny Tirado told The McAllen Monitor.
A short time later, Border Patrol arrested 132 immigrants found in two buildings on a property in Alton, about 8 miles west of McAllen, according to KRGV-TV.
The Border Patrol made more than 154,000 arrests on the section of the U.S.-Mexico border in southernmost Texas last year, more than anywhere else on the Southwest border. The majority of the immigrants come from Honduras, El Salvador and Guatemala.
Guides typically lead the immigrants across the Rio Grande in smaller groups and then mass them in so-called stash houses on the Texas side of the border until their transportation can be arranged for the next leg of their journey.
"We ate one burrito per day," said Alfredo Espinoza Rivera, who was arrested at the camp. He said he had left El Salvador about six weeks earlier, paying $7,000 to a smuggler. The 37-year-old said he was trying to reach his father, a U.S. citizen, in Los Angeles.
"I'm scared to go back to my country," he said. "There's a lot of crime and it's hard to live there."
Follow us on twitter.com/foxnewslatino
Like us at facebook.com/foxnewslatino