Immigration activists vow to fight for ID cards after Wisconsin legislators pass bill banning them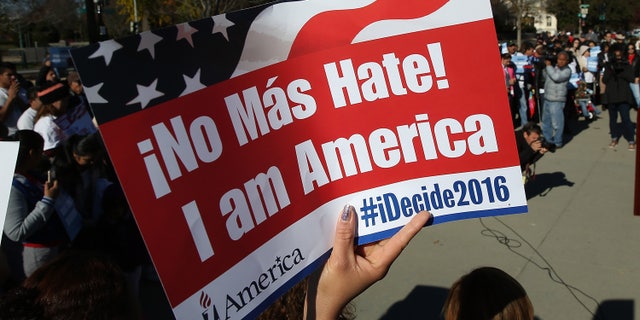 NEWYou can now listen to Fox News articles!
MILWAUKEE (AP) – Immigrants' rights supporters lost a key battle to get ID cards for people who are living in the U.S. illegally when the Wisconsin Legislature passed a bill to ban counties issuing such cards, but activists say they're not giving up the fight.
Led by Voces de la Frontera, advocates hope a sustained show of force -- which started with a major protest at the state Capitol last month -- will prompt Gov. Scott Walker to veto the measure. If that doesn't work, they say they're going to shift their focus to cities with significant Latino populations, such as Milwaukee and Madison.
Supporters say local ID cardholders would be able to open bank accounts, enter schools and accurately identify themselves to police, among other benefits. But opponents say the Republican-sponsored proposal will prevent fraud and confusion, because the cards are easy to fake and counties don't have the authority to issue such documentation.
"We already issue state ID," Sen. Van Wanggaard said, adding that a new form of identification "creates a problem of having credibility."
The issue highlights continued efforts to bring immigrant communities into the mainstream in Wisconsin and elsewhere around the nation, and the resistance of political leaders, such as Wanggaard, who say immigrants shouldn't be rewarded for entering the country illegally.
"Symbolically," said Jon Blazer, an immigration expert with of the American Civil Liberties Union's national office, "this is quite important to both sides. It speaks to the symbolism of who belongs."
The local ID programs started in the mid- to late 2000s and have gained traction in many places across the nation, Blazer said, but the broader push has picked up momentum since 2013, when eight states, Washington, D.C., and Puerto Rico started allowing immigrants without legal status to obtain driver's licenses. New York City officials in 2014 started issuing IDNYC cards, calling it the largest municipal ID card program in the nation.
But the efforts have been met by backlash: A bill this year in Arizona's Senate challenged a Phoenix local ID plan but failed, and North Carolina lawmakers sharply limited local powers to issue ID cards last year.
A local-level effort led to finalized plans in Milwaukee for a jointly funded city-county card, which would have started going out this year if not for the legislation on Walker's desk, Voces executive director Christine Neumann-Ortiz said.
Eduardo Perera, a 41-year-old contractor who's lived in Milwaukee for years but was born in Mexico, said the identification would have made his life easier in countless ways. But aside from that, he said, "it's a moral thing.
"I've lived here 26 years. I've owned a house for 18 years. I should be able to prove that I'm here."
Perera and others say the cards would have helped everyone from victims of domestic violence, who can't obtain restraining orders without identification, to city residents who can't drop off recycling without ID.
But Republican legislators see it differently: "Trying to get ID for someone here illegally is a federal issue," Wanggaard said.
The local ID bill, which passed last month, and a "sanctuary city" bill pending before the state Senate that would require police to check the immigration status of criminal suspects, prompted more than 15,000 people to protest at the state Capitol in protest last month.
Walker hasn't indicated whether he plans to sign the ID legislation, but the Republican said recently that he doesn't expect the sanctuary city bill to advance and that he's "just fine with that."
Neumann-Ortiz said the local ID bill "at its heart is racist and anti-immigrant," and she noted that her group will call for more protests over the next few weeks. "If it passes there will be a political price to the Republican party."
Neumann-Ortiz also said her group is poised to take the local ID fight to the city of Milwaukee, which, along with other cities and villages, wouldn't be limited under the legislation. However, she acknowledges advocates will have to rally political will and seek funding for a new plan without Milwaukee County involvement.
Local ID cards, she said, show immigrants, many of whom have lived in the state for decades, that "you're part of the community. You're appreciated."
Like us on Facebook
Follow us on Twitter & Instagram