Images show miserable conditions at Border Patrol holding cells in Arizona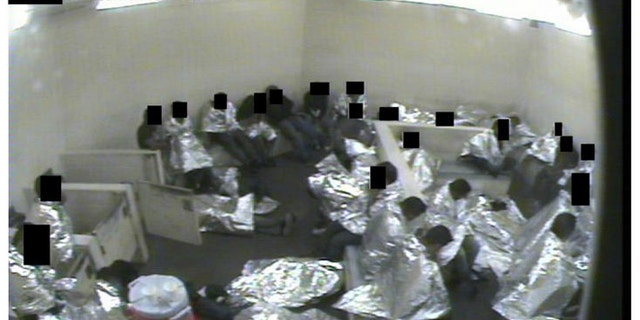 Holding cells where undocumented immigrants caught entering the United States illegally are held are cold, cramped and dirty, a newly released video shows.
The images, taken in 2015 in an Arizona Border Patrol facility, were released Thursday by the U.S. Customs and Border Protection as part of a federal court case. They show dozens of men crowded into a large cell, wrapped in heat blankets, presumably to keep warm in the frigid room.
Some of the video images reveal empty cells nearby where bedding is unused, while the crowded cell is outfitted only with benches.
Additionally, some images show women and children in a cell without bedding, wrapped in emergency blankets. They are supposed to be given a mat and blanket when entering the processing facilities, according to the Los Angeles Times.
Although the images are of short-term holding facilities, the detentions can last several days.
"They were never intended and not designed to be long-term facilities," Nora Preciado, an attorney with the National Immigration Law Center (NILC), one of the organizations suing the U.S. Border Patrol over its treatment of migrants in the processing centers told the Times.
Both the NILC and the American Civil Liberties Union of Arizona claim that conditions in the cells are so deplorable as to be un-Constitutional, and the lawsuit alleges that the Border Patrol won't allow detainees to shower or provide necessities for basic hygiene – abuses which ACLU and NILC say is not captured on the video footage.
The Border Patrol says that it maintains temperature in the cells between 68 and 80 degrees, but admits that trash can pile up. Companies are contracted to clean at each facility.
U.S. District Court Judge David C. Bury unsealed the video over objections by government lawyers.
Attorneys for plaintiffs argue that the images are only the tip of the iceberg about the conditions of detainees.
"When we start to depose people who worked at those places," Preciado told the Times, "we'll learn a lot more."