Ice Rink Shooter, 16, Wounds Two In NYC's Bryant Park To Rob Winter Jacket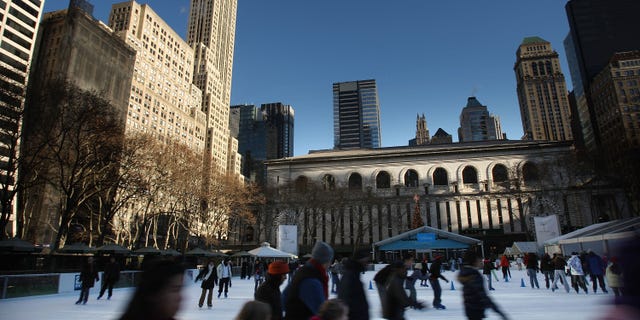 A 16-year-old opened fire at a crowded Manhattan ice-skating rink, leaving two people wounded and blood splattered across the ice. He was attempting to rob one of the victims of his coat.
The violence late Saturday at the Bryant Park rink sent skaters stampeding in all directions to safety. Police said a 14-year-old boy was struck in the back and a 20-year-old man was hit in the arm as the shooter opened fire in the popular park in midtown Manhattan, behind the main building of the New York Public Library. Neither injury was believed to be life-threatening.
According to the Daily News, the 20-year-old man was Javier Contreras and the kid's name is Adonis Mera.
Authorities said the shooter had approached Contreras at the rink and demanded his coat. The man refused to hand it over, and the shooter left, only to return moments later and start firing.
Police believe the 20-year-old was the intended target and that he did not know the suspect. They said the 14-year-old boy was just an innocent bystander.
The Daily News reports that the shooter, Corey Dunton, is a gang member and was arrested after an hour-long standoff at his apartment building while he kept on posting to his Facebook page from a mobile device.
"Feds trien [sic] kick down my door its over were do i go from hereeeee … [I don't know] wat to do i f----ed up," he posted about 9 a.m. on Sunday.
Minutes later, he added: "These n----s gunna have to take me out take my life … I aint goin to jail i reather take my life!!"
Dunton was charged Sunday night with attempted murder and other charges including assault, criminal possession of a weapon and reckless endangerment. He is being charged as an adult.
"It was terrifying; my legs were shaking," said Raghuram Krishnamachari, who was dining with his family in a restaurant overlooking the park when they heard three shots being fired.
"We had a view of the whole thing, we saw it happening, and the first thing that came to my mind is, 'It's a crazy person with a machine gun and all he wants to do is kill as many people as possible,'" the Brooklyn man said.
Krishnamachari and his family barricaded themselves in a bathroom at the glassed-in restaurant and called 911.
On a mellow, sun-drenched Sunday, the rink opened as normal and the park was again filled with skaters and other visitors enjoying the pre-holiday vendor shacks and eating at outdoor tables.
Many had no idea there had been a shooting the night before.
"I'm surprised — absolutely surprised," said Allen Targhi, a Manhattan shoe salesman who comes to the park almost daily.
"I expect peace and love and happiness in this park; it's the reason I come," he said as he lounged in the sun.
Bustling with activities ranging from movies on the grass in the summer to concerts and special events year round, Bryant Park draws both New Yorkers and out-of-towners.
Some sit in enclosed restaurants nestled in back of the library, overlooking the greenery.
Krishnamachari was among them Saturday night and used his cellphone to snap a picture of the violence.
The 29-year-old software architect was dining at Celsius, a second-floor restaurant above the rink, when he heard the shots at about 11 p.m.
"Then we saw a bunch of people running on the ice," said Krishnamachari, who was out for dinner with his girlfriend, her sister from Florida and the sister's husband after a Broadway show. Restaurant guests "were freaking out, shouting and running."
Krishnamachari said he worried the gunman would enter the building. He saw an "out of order" sign on a bathroom, which is where he locked in his family and a few others for about five minutes — until he heard voices outside say that it was over.
Joe Carella, a spokesman for Bryant Park Corporation, the not-for-profit company that manages the park, said there were about 300 people on the ice at the time of the shooting.
Afterward, Krishnamachari walked to the nearby hotel where his sister-in-law was staying.
"We grabbed a bottle of wine and some food, and we went to their room and stayed there all night," he said. "They were shaken up and we didn't want them to be alone."
Based on reporting by The Associated Press.
Follow us on twitter.com/foxnewslatino
Like us at facebook.com/foxnewslatino