ICC says Kenya's Ruto must attend whole trial, for now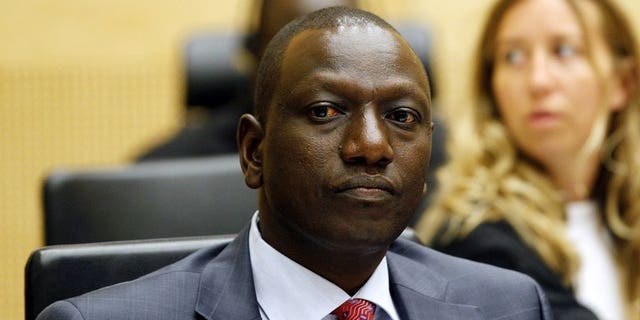 THE HAGUE, South Holland (AFP) – The International Criminal Court on Tuesday suspended a decision allowing Kenya's Deputy President William Ruto to be absent from parts of his trial next month for crimes against humanity.
The ICC in June said that Ruto could skip parts of his trial over deadly violence that erupted in Kenya after elections in late 2007 because of the demands placed on him in Nairobi by his duties as deputy president.
But ICC prosecutor Fatou Bensouda appealed that decision, insisting Ruto should be present throughout his trial, alongside fellow-accused Joshua Arap Sang, 37, which begins on September 10.
As a result, the ICC appeals chamber on Tuesday suspended the decision allowing Ruto to be absent pending a decision on Bensouda's appeal.
"The request for suspensive effect is granted," the court said in a statement.
Ruto, 46, faces three counts of crimes against humanity over deadly violence that erupted in Kenya after elections in late 2007, which claimed some 1,100 lives and displaced around 600,000 people.
Bensouda argued that if the appeals court overturns the ruling allowing Ruto to be absent then the trial would have to start again, if he had already missed any of the hearings.
Such a decision "would create an irreversible situation that could not be corrected," Bensouda said, warning that witnesses may be unable or unwilling to testify again.
The ICC has already rejected a request from Ruto and Sang's lawyer to move the high-profile trial to Kenya or Tanzania.
The ICC in January 2012 confirmed crimes against humanity charges against four senior Kenyans including Ruto, Sang and Kenya's newly-elected President Uhuru Kenyatta.
Charges against a fourth accused, civil servant Francis Muthaura, have since been dropped.
Judges in June postponed Kenyatta's trial until November 12, when he is expected to become the first-ever serving head of state to face the ICC's judges.
What began as post-election riots in 2007 quickly turned into ethnic killings and reprisal attacks, plunging Kenya into its worst wave of unrest since independence from Britain in 1963.