Ibero-American summit overshadowed by Venezuelan president's non-appearance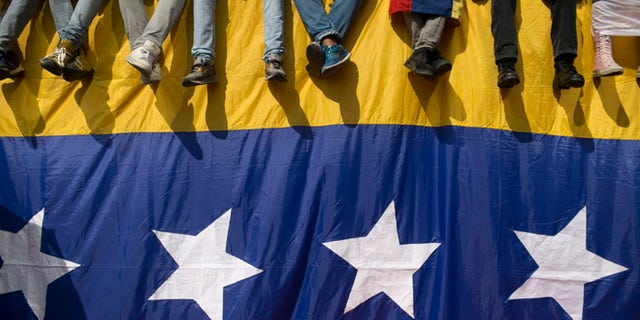 NEWYou can now listen to Fox News articles!
CARTAGENA, Colombia (AP) – Leaders of Ibero-American nations met Saturday as a political and humanitarian crisis deepened in Venezuela, the summit overshadowed by a guessing game over whether their Venezuelan colleague would show.
He didn't. Reporters even trooped to the airport in this Caribbean city to await Nicolas Maduro.
His attendance had been expected after Peru's president laid down a gauntlet of sorts. Pedro Pablo Kuczynski said he would seek consensus for Venezuela's suspension from the Organization of American States for violating its democratic charter.
And though talk of Venezuela was the main course at the leader's private lunch, they issued no related statement.
Maduro's government has been widely condemned for blocking attempts by the opposition, which won control of congress in December elections, to gather signatures in a petition seeking to hold a recall election against the socialist leader.
Venezuela's foreign minister, Delcy Rodriguez, said Maduro couldn't attend because he was preparing for a Sunday meeting with Venezuela's opposition leaders sponsored by the Vatican.
She did not respond directly to Kuczynski's concerns.
"The only crime (of Venezuela's government) is to diverge from world powers and imperialism," she said.
Venezuela is suffering from severe food and medicine shortages and acute criminal violence.
Kuczynski, a 78-year-old former investment banker and World Bank official who assumed Peru's presidency in July, said it is very difficult for leaders to meet and not discuss the region's most burning issues.
He urged a diplomatic offensive in view of Venezuela's "potential humanitarian crisis."
"There is urgency so things get better and not worse," Kucznyski added.
The secretary general-elect of the United Nations, Antonio Guterres of Portugal, said he believed there was a clear consensus that the only solution for Venezuela is "a constructive dialogue between the parties" backed by the international community.
The meeting was attended by the leaders of just half of the group's 22 member countries. Notably absent were the leaders of Spain, Brazil and Argentina.
The group issued a statement endorsing efforts by their host, Colombian President Juan Manuel Santos, to rescue the peace pact he signed Sept. 26 to end a 52-year-old conflict that has claimed more than 220,000 lives.
Colombian voters on Oct. 2 narrowly rejected the accord with the Revolutionary Armed Forces of Colombia.
On Saturday, his peace negotiators meet with political leaders who had promoted the "No" vote, led by Alvaro Uribe, the hard-line conservative who weakened the FARC militarily during his 2002-2010 presidency with U.S. backing.
Santos said Friday that differences could be ironed out in a matter of days if there was good will. Uribe was noncommittal heading into Saturday's eight-hour talks.
Negotiators for both sides said afterward that they discussed FARC political participation and rural reform.
Many Uribe supporters oppose participation by the rebels in Colombia's congress. Under the accord, the rebels' future political movement would be guaranteed a minimum of 10 seats in congress for two legislative periods. After that, they would have to win representation at the ballot box.
Like us on Facebook
Follow us on Twitter & Instagram