Hurricane Maria slams Caribbean as 'potentially catastrophic' Category 5 storm
NEWYou can now listen to Fox News articles!
Hurricane Maria slammed the Caribbean Monday night as a quickly intensifying Category 5 storm, which the National Hurricane Center warned was "potentially catastrophic."
The eye wall of the storm was moving onshore over Dominica, packing 160-mph winds. Forecasters say the hurricane will likely travel over the Leeward Islands and the extreme northeast Caribbean through Monday night and Tuesday.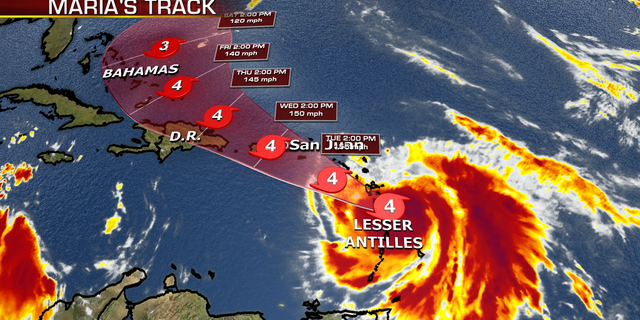 Maria had started the day as a Category 3 hurricane before growing in strength.
A hurricane warning has been issued for Puerto Rico, Culebra and Vieques, in addition to previous warnings in effect for Guadeloupe, Dominica, St. Kitts, Nevis and Montserrat, Martinique, the U.S. Virgin Islands and the British Virgin Islands.
Maria's path is forecast to move northward for the next couple days. It's unclear if Hurricane Maria's path will directly hit the continental U.S.
The U.S. territory of Puerto Rico's governor has declared a state of emergency, and has activated the National Guard ahead of Maria's arrival.
"We are informing citizens that it is time to seek refuge with a family member, friend or move to a state shelter because rescuers will not go out and risk their lives once winds reach 50 miles per hour," Puerto Rico Gov. Ricardo Rosselló said Monday, according to The Weather Channel.
"This storm promises to be catastrophic for our island," said Ernesto Morales with the U.S. National Weather Service in San Juan. "All of Puerto Rico will experience hurricane force winds."
Puerto Rico has imposed rationing of basic supplies including baby formula, water, milk, canned food, batteries and flashlights.
A storm surge of six to nine feet has been predicted to hit Puerto Rico and the U.S. Virgin Islands, where "the deepest water will occur along the immediate coast near and to the north and east of the landfall location, where the surge will be accompanied by large and destructive waves," the NHC said.
While Puerto Rico narrowly avoided the path of Hurricane Irma last week, the U.S. Virgin Islands is still reeling from the impact the storm left as it barreled through the Caribbean earlier in September.
Damage to the U.S. Virgin Islands — particularly St. John and St. Thomas, both of which are still recovering — was extensive by Irma, caused four deaths on the two islands as the Category 5 storm knocked through.
Governor of the U.S. Virgin Islands Kenneth Mapp said Monday that the entire territory of St. Croix will be under curfew starting Tuesday at 10 a.m.
Hurricane Maria has developed "the dreaded pinhole eye," which is a key sign that the storm continues to gain strength, University of Miami hurricane researcher Brian McNoldy said. Maria's eye has shrunk 10 miles in diameter — a smaller, tighter eye makes the hurricane spin faster.
McNoldy said meteorologists saw a similar pinhole when Hurricane Wilma set a record for lowest central pressure — a key measure of storm power — in 2005.
The NHC said Maria would likely continue to gain strength for the next 24 hours or longer.
The Associated Press contributed to this report.