Hungarians in Budapest protest govt's 'illiberal' policies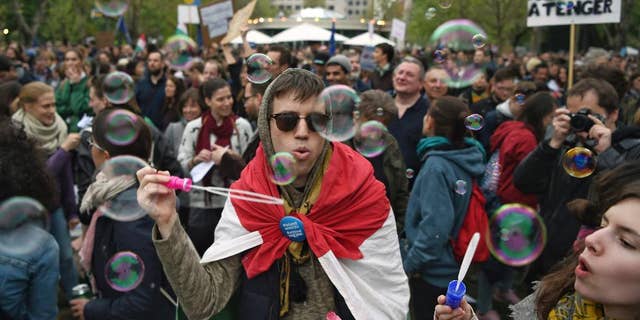 BUDAPEST, Hungary – Thousands of Hungarians are attending a protest dubbed "We won't stay silent" against government policies seen as stifling academic freedom and intimidating civic groups.
The protesters on Saturday brought dance music, whistles, horns and loud jeering to fill Freedom Square in downtown Budapest, home to emblematic landmarks like a Soviet war memorial, a statue of Ronald Reagan and the U.S. Embassy.
Actor Simon Szabo told the crowd Saturday "no one can stay silent today. No one can silence us."
The rally followed similar protests over the past two weeks provoked by legal amendments seen targeting the Central European University, founded by billionaire George Soros, considered an ideological foe by Prime Minister Viktor Orban.
Another draft bill would force some civic groups to declare foreign funding or face fines or closure.