Hundreds Of Protests Planned This Weekend Across U.S. Over Border Crisis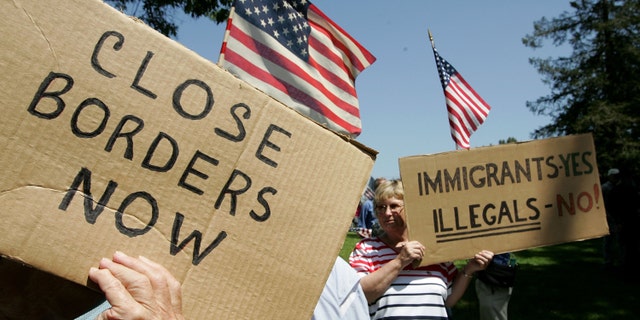 NEWYou can now listen to Fox News articles!
Hundreds of protests over the U.S. government's handling of a staggering number of unaccompanied minors from Central America who have crossed the border illegally are taking place around the country Friday and Saturday.
In Philadelphia, supporters of strict immigration enforcement held a demonstration outside the Mexican consulate, while another group that wants more lenient treatment for the kids held a counterprotest, according to a local CBS affiliate.
"The people have been silent for too long," Margaret Adelsburger, a member of Pennsylvanians for Immigration Control and Enforcement who was at the protest. "We've been invaded. It's a war."
But on the other side, Carmen Guerro, a Mexican immigrant who supports the children, said: "We are not criminals, we are not bad people. We are just human beings."
Others protests took place during the day on Friday in various locations, including Florida and Washington State, while many more were scheduled for Saturday.
Three organizations that favor strict immigration policies were spearheading the protests. Those groups are American Legal Immigration Political Action Committee (ALIPAC), Overpasses for America and Make Them Listen.
The organizers argue that the Obama administration has turned a blind eye to securing the border, and that has helped fuel the current influx of people from Central America. Those who support the immigrants say it is the poverty and violence in their homelands that is driving them to flee.
"Our goal is to unify Americans of every race, political party and walk of life against this Obama-inspired invasion of our American homeland," Paul Gheen, president of the South Carolina-based ALIPAC, told Mashable.
"They make more money this way, they have more control of the government this way — there's a constellation of power groups working to support the invasion of illegal immigration," said Gheen.
The protests come on the heels of demonstrations that have occurred in various communities in recent weeks as residents and town officials learn that local facilities may be used to temporarily hold some of the immigrants while they are being processed.
In Iowa, a protest will be held in the name of Louise Sollowin, a 93-year-old woman who died after being raped and beaten by an undocumented immigrant, according to Mashable. Rep. Steve King, a Republican from that state, is expected to speak at the rally. King is one of Congress' most vocal proponents for strict immigration enforcement.
The government has been struggling to cope with a surge of Central Americans entering Texas' Rio Grande Valley, where the Border Patrol has made more than 174,000 arrests since Oct. 1.
The government has been actively looking for additional detention space — primarily for mothers with young children.
More than 50,000 unaccompanied minors have crossed the border since October, with that number expected to reach 90,000 this year.
Follow us on twitter.com/foxnewslatino
Like us at facebook.com/foxnewslatino