Hundreds of Pro-Democracy Activists Attacked in Cairo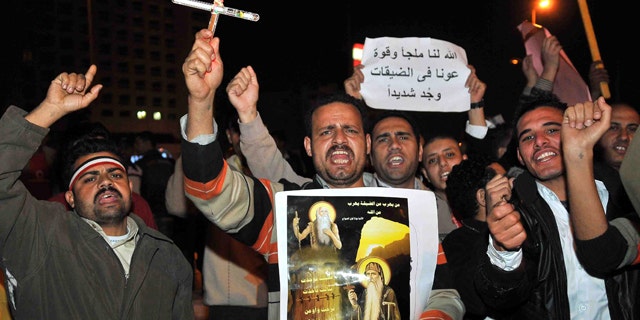 Hundreds of pro-democracy activists were attacked by dozens of men armed with rocks Wednesday in Cairo's Tahrir Square, according to Reuters.
State television showed hundreds of people facing off.
"A group of gangsters attacked us with stones, they seemed to be wanting us to leave the square," one protester told Reuters.
This latest round of violence comes after clashes broke out Tuesday when a Muslim mob attacked thousands of Christians protesting against the burning of a Cairo church. At least 13 people and 140 others were wounded, security and hospital officials said Wednesday.
The Muslims torched the church amid an escalation of tensions between the two religious groups over a love affair between a Muslim and a Christian that set off a violent feud between the couple's families.
The officials said all 13 fatalities died of gunshot wounds.
The officials spoke on condition of anonymity because they were not authorized to speak to the media.
The late Tuesday night clashes added to a sense of ongoing chaos in Egypt after the momentous 18-day democracy uprising that toppled longtime leader Hosni Mubarak on Feb. 11. The uprising left a security vacuum when police have pulled out from Cairo and several other cities three days into the uprising.
The police have yet to fully take back the streets, something that has left space for a wave of violent crime and lawlessness in some parts of the nation.
The Christian protesters on Tuesday blocked a vital highway, burning tires and pelting cars with rocks. An angry crowd of Muslims set upon the Christians and the two sides fought pitched battles for about four hours.
Mubarak handed power to the military when he stepped down, but the military does not have enough troops to police every street in Cairo, a sprawling city of some 18 million people that, at the best of times, is chaotic.
Even before the uprising unleashed a torrent of discontent, tensions had been growing between Christians and Muslims in this country of 80 million.
On New Year's Day, a suicide bombing outside a Coptic church in the port city of Alexandria killed 21 people, setting off days of protests. Barely a week later, an off-duty policeman boarded a train and shot dead a 71-year-old Christian man and wounding his wife and four others.
Egypt's ruling generals have pledged last week to rebuild the torched church and the country's new prime minister, Essam Sharaf, has met the protesters outside the TV building in downtown Cairo to reassure them that his interim government would not discriminate against them.
But the Christians were not appeased. At least 2,000 of them protested on the highway on Tuesday night and a separate crowd of several hundred has been camping out outside the TV building for days to voice their anger at what they perceive to be official discrimination against them.
The Associated Press contributed to this report.