Hundreds of migrants on crippled ship off Crete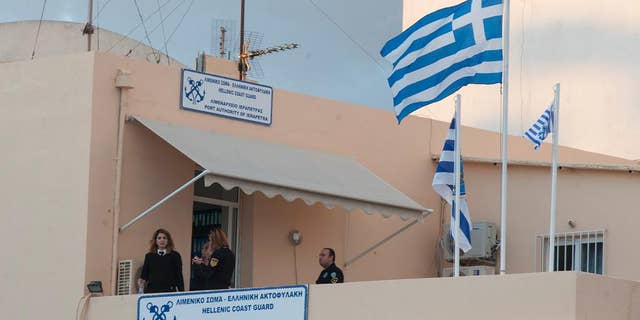 ATHENS, Greece – Ships from Greece rushed to help after a crippled freighter crammed with hundreds of migrants floundered for hours Tuesday in gale-force winds and high waves in the Mediterranean Sea, officials said.
The 250-foot Baris cargo ship carrying some 700 people trying to enter Europe suffered engine failure around dawn 30 nautical miles southeast of the Greek island of Crete, the Greek Coast Guard said in a statement.
Four merchant ships, the Greek navy frigate Hydra and an air force rescue helicopter were sent to the area to evacuate the vessel if necessary, although authorities said they would probably try to tow it to Crete.
"The likeliest scenario right now is for the frigate to tow it to a safe haven," coast guard spokesman Nikos Lagadianos said. "It would be a very difficult operation and should take at least 10 hours."
He told The Associated Press there were no reports of health problems onboard but anyone in need would be airlifted to a hospital.
The coast guard said initial indications suggested the passengers included Syrians and Afghans heading for Italy. The freighter was flying the flag of Kiribati, a small Pacific Ocean island, but it was not known which port it left from.
Tens of thousands of refugees, including many from war-torn Syria and Libya, seek to enter Europe illegally every year, paying smuggling gangs to ferry them across the Mediterranean in overcrowded boats. Hundreds die every year in the attempt.
More than 150,000 migrants have arrived this year in Italy.
On Sunday, 228 men, women and children were rescued from a crippled ship off Cyprus in the eastern Mediterranean. They told officials they were Syrian refugees who had been hoping to reach Italy.