Hundreds of Israeli Police Deployed to Deal With Pro-Palestinian Activists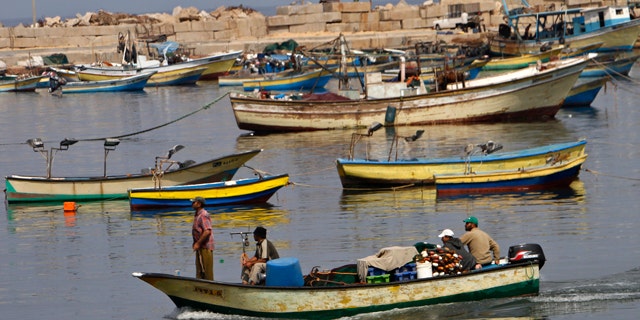 JERUSALEM -- Hundreds of police, including undercover officers, took up positions at Israel's international airport on Thursday in anticipation of the arrival of pro-Palestinian activists, a police spokesman said.
The activists have said they were on a peaceful mission to the West Bank designed to draw attention to the plight of Palestinians living under Israeli occupation. Israel holds complete control over who enters and exits the West Bank.
But Israel has been especially wary of trouble with foreign activists since Israeli naval commandos clashed with international activists aboard a Gaza-bound flotilla last year, killing nine people. Israeli fears have been further heightened by deadly clashes in recent weeks with pro-Palestinian activists along Israel's frontiers with Lebanon and Syria.
Police spokesman Micky Rosenfeld said officers deployed at Tel Aviv's Ben-Gurion airport have been prepared to deal with scenarios ranging anywhere from uneventful landings to airport officials being attacked.
Israel is known for its strict airline security, beginning with check-ins on incoming flights, and officials claim they have sophisticated intelligence procedures in place to identify potential troublemakers.
The Yediot Ahronot newspaper on Thursday quoted a police commander, Nissim Mor, as saying 150 activists have been earmarked as potentially problematic and their names turned over to airlines in an attempt to prevent their arrival.
The vast majority of activists are likely to be allowed to enter, and make their planned one-hour trip to the West Bank.
Israel says it will not stop people because of their political beliefs, but that its only concern is to stop people who plan to carry out illegal or violent acts.
Rosenfeld said airport facilities could hold as many as 80 detainees, and that any overflow would be sent to a prison in southern Israel.
The visit by the activists -- most of them arriving from Europe -- comes as a separate, Gaza-bound flotilla of pro-Palestinian activists appears to have fizzled.
The flotilla ships were held up by mysterious malfunctions and Greek authorities who did not let them set sail from ports in Greece where the ships had mustered.
The airborne activists have denied any direct connection to the Gaza flotilla.
They say their people will tour the West Bank in solidarity with the Palestinians and that some would take part in weekly protests against Israel in east Jerusalem and the West Bank. They say all their activities will be nonviolent.
In Europe, German federal police said as long as passengers had valid tickets and passports, they had no grounds to stop any activists at airports there. But the German Foreign Office posted an advisory Thursday saying the Israeli government has stressed it would treat "any kind of illegal behavior" forcefully. Berlin also warned German citizens of Palestinian descent they would not be allowed into Israel through Ben-Gurion.
In London, Britain's Foreign Office said it had not been asked by Israel to prevent anyone from boarding flights to Israel.
The prospect of an influx of pro-Palestinian sympathizers has agitated Israel. The Israeli public security minister claimed some of the potential arrivals were "hooligans," and Prime Minister Benjamin Netanyahu made a show of reviewing security agencies' plans at the airport before flying to Romania on Wednesday.
The "Welcome to Palestine" movement has estimated that between 500 and 700 people would arrive on flights over the weekend. It accused Israeli authorities of badly overreacting, noting that there are strict security procedures before boarding the plane.
"This is a total circus by the Israeli authorities, who are painting us as criminals," said French activist Olivia Zemor.
She said some 300 of the 600 activists planning to go to Tel Aviv and then the biblical West Bank town of Bethlehem are French, aged between 9 and 85.
Some Israeli critics accused officials of appearing unnecessarily hysterical and painting the country as a police state.
"The State of Israel has lost its senses," columnist Eitan Haber wrote in Thursday's Yediot Ahronot newspaper. "We are playing right into the hands of a few bands of troublemakers who are successfully trying to make Israel look bad around the world?"
Israel's Tourism Ministry, anticipating possible inconveniences or delays at the airport, said it would greet incoming visitors over the weekend with flowers.
"We need to maintain a sense of normality at the airport, sending out a message to the international press that Israel is a safe country and an attractive tourism destination," said tourist minister, Stas Misezhnikov.
At any given time, hundreds of foreigners, many of them aid workers or activists, are in the West Bank.
Meanwhile, Israel says it has the right to determine who passes through its borders and routinely denies entry to people of Palestinian origin and their foreign supporters, including high-profile academics like Noam Chomsky and Norman Finkelstein.,
The only way to get to the West Bank is through Israel-controlled crossings -- either by arriving at Ben-Gurion and driving to the West Bank, or from Jordan, by passing through the Israeli-controlled crossing on the Jordan-West Bank border.
Access to blockaded Gaza, run by the militant Hamas group, is even more difficult. Israel allows few people to cross its border with Gaza. And with few exceptions, Gazans can only travel abroad by crossing into Egypt through their shared border.
During a visit Thursday to Bulgaria, Netanyahu said Israel would exercise the "basic right" that every country has to block provocateurs from entering.
"We have a restrained resolve to deal with provocations, to prevent disruptions of the public order," Netanyahu said.