Hundreds of African migrants are freed from Israeli detention center after high court ruling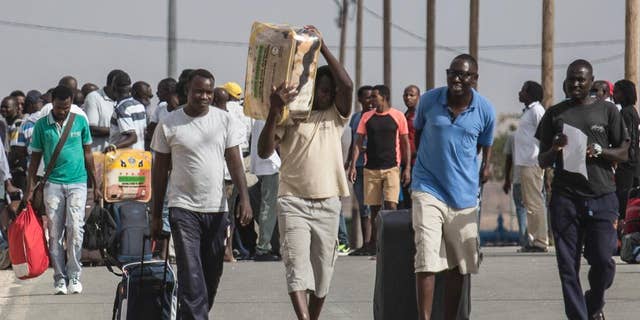 HOLOT DETENTION FACILITY, Israel – Israel began releasing hundreds of African migrants from a remote detention center in southern Israel on Tuesday, after a court ruling earlier this month ordered the release of those held for more than a year.
Since it passed a 2012 "anti-infiltration" law, Israel has sent 1,700 migrants to the Holot facility, deep in Israel's Negev desert. They can come and go, but must sign in several times a day and sleep there, making it impossible to stray far from the remote facility or hold jobs. Those who violate the rules, or reject orders to report there, can be sent to a nearby prison.
The Supreme Court upheld the law but ruled that migrants held at Holot for more than 12 months must be freed.
Some 50,000 African migrants are in Israel, most from the strife-ridden countries of Eritrea and Sudan. Many say they are fleeing conflict and persecution and are seeking refugee status. Israel says they are economic migrants in search of work whose swelling numbers threaten the country's Jewish character.
About 1,200 migrants will be released beginning Tuesday. Another 500 will remain at Holot until the end of their 1-year holding period.
Tuesday's release was bittersweet for Faysal Hussein, 28, from Sudan. Hussein walked out of Holot's police-patrolled entrance with a backpack, a few dozen shekels, no job or home, and no idea where to go. Like the others leaving with him, he said he has little support and was now forced to catch a bus to somewhere else, where the pressure to find food, shelter, medical care, and safety will begin again.
"I have no place to go. I don't know anyone. I have no money. I don't know what to do," Hussein said.
Israel does not deport migrants because they could face danger in their conflict-ridden homelands. But critics charge that the government is pursuing a strategy of coercing the migrants to leave Israel willingly.
Those released from Holot have limited employment opportunities. They are officially barred from working, but many still find jobs in the service industry. They are not eligible for public welfare and are also banned from Tel Aviv and the resort city of Eilat, both epicenters of African communities and potential job prospects.
Many leaving Tuesday said they would go to other, smaller cities, where they hoped to find work.
Only four Eritreans have received refugee status in Israel, according to Elizabeth Tsurkov, a project director at the Hotline for Migrant Workers, an advocacy group. Citing official government statistics, she said Israel has approved less than 1 percent of refugee requests from all countries over the past four years.
Israel is continuing to issue detention orders for other migrants to report to Holot, Tsurkov said.