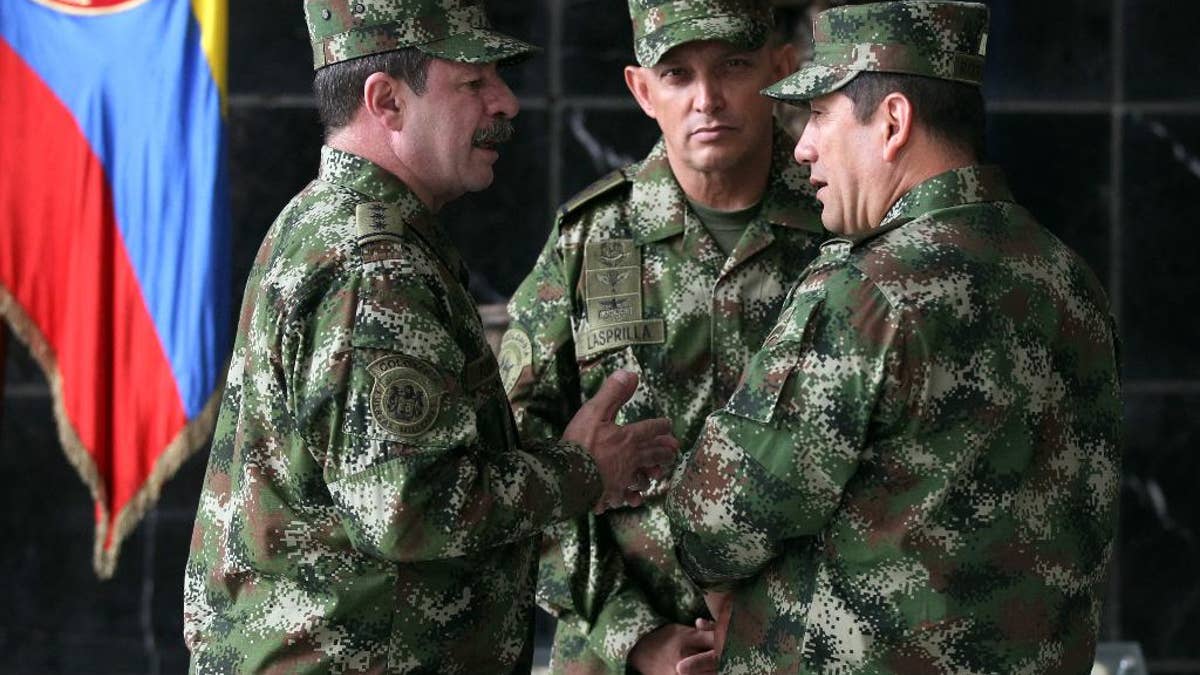 BOGOTA, Colombia – Dozens of senior Colombian army officers implicated in the killing of 3,000 civilians falsely claimed to be rebels a decade ago have risen through the ranks and are escaping punishment for their roles in one of Latin America's worst atrocities, Human Rights Watch said Wednesday.
In a 95-page report titled "On their Watch," the rights group offers the most extensive look so far at the pattern of killings by the U.S.-backed armed forces and the legal proceedings against military personnel who tried to present civilians as guerrillas killed in combat to inflate body counts that led to promotions and bonuses.
While more than 800 soldiers have been convicted for such killings, most are low-ranking soldiers. No charges have been filed against a single officer heading a brigade or anyone else higher up the chain of command at the time of the killings between 2002 and 2008, at the peak of the military offensive against the Revolutionary Armed Forces of Colombia.
Among the senior officers singled out by Human Rights Watch are two of Colombia's most distinguished soldiers: Gen. Juan Pablo Rodriguez, the current head of the armed forces, and Gen. Jaime Lasprilla, the army's top commander. Both led brigades in different parts of the country that were accused of carrying out at least 76 of the killings while briefly under their command.
"The generals are pretty much off the hook," said Jose Miguel Vivanco, the Americas director for Human Rights Watch.
Colombia's defense ministry has always denied it turns a blind eye to crimes committed by the country's top soldiers.
Earlier this year, Chief Prosecutor Eduardo Montealegre said more than a dozen generals were under investigation, but so far none have been charged. Human Rights Watch said Lasprilla is not among those being investigated but Rodriguez is. On Tuesday, Montealegre's office ordered four retired generals, including former army commander Mario Montoya, to provide testimony to prosecutors investigating the killings of civilians.
The rights group said that while senior officers were unlikely directly involved in the so-called "false positives" killings, documents obtained by prosecutors show the officers signed off on troop movements and payments to soldiers and fake informants involved in the slayings. That lack of scrutiny came during a period when reports were issued by the United Nations and others drawing attention to systematic executions taking place in several parts of Colombia.
President Juan Manuel Santos fired three generals and several other top commanders while serving as defense minister when the scandal broke. As president, he has expressed support for the investigations of army personnel.
But human rights groups want Santos to go further, especially as he negotiates a peace deal with leftist rebels that in order to stick will require a crackdown on abuses committed by all sides during the country's half-century-old conflict.
In addition to calling on the military to stop obstructing civilian prosecutors, Human Rights Watch's report says more protection needs to be given to witnesses willing to implicate higher-ups in the face of death threats and other reprisals. The report highlights the case of a soldier, Nixon de Jesus Carcamo, who was slain last year at a military detention center while being held on charges involving "false positive" killings. Eleven days before his murder he told prosecutors that he feared for his life because he was accusing his superiors.
The report also criticizes the lack of oversight by the U.S. and calls on the Obama administration to suspend the portion of military aid, around $7 million a year, which is conditioned on Colombia's respect for human rights.
U.S. Sen. Patrick Leahy, the author of legislation permitting such a suspension, said he was deeply troubled by the report and called for a vigorous U.S. response.
"It shows that as we provided billions of dollars in aid to the Colombian army over many years, its troops systematically executed civilians," the Vermont Democrat said in a statement. "Colonels and generals who commanded units responsible for false positives have risen to the top of the military command without fear that anything would happen to them."
___
Joshua Goodman on Twitter: https://twitter.com/apjoshgoodman