Hugo Chávez daughter is the richest individual in Venezuela, report claims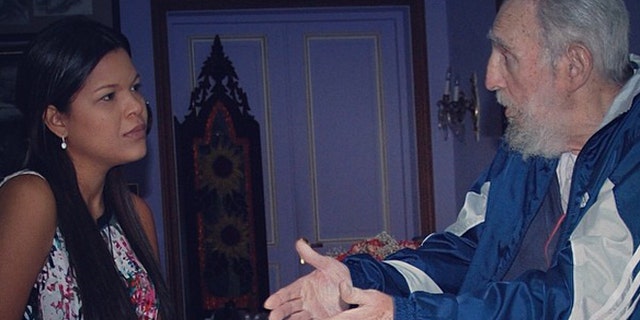 On more than one occasion the late Venezuelan president Hugo Chávez declared that being rich is bad, often adding "Rich people attack me for saying that, but I claim it is bad."
His favorite daughter, however, may disagree.
According to the Miami-based Diario Las América, Venezuelan media sources will soon publish materials showing that María Gabriela Chávez has bank accounts in the U.S. and Andorra with assets totaling nearly $4.2 billion.
If the claim is true, Chávez's daughter would be the richest person in Venezuela, a country with industrialists like telecommunications magnate Gustavo Cisneros (worth $3.6 billion, according to Forbes) and food and beverage mogul Lorenzo Mendoza ($2.7 billion).
Those figures stand in stark contrast to the overall state of the Venezuelan economy, which has been plagued by the collapse of oil prices, spiraling inflation rates caused by untenable fiscal policies and massive shortages of the most basic commodities, such as food, diapers and beauty products.
María Gabriela, 35, is the second-oldest of Chávez's children, and she was the one who seemed to inherit his political mantle. After his 2002 divorce, she stepped into the ceremonial role of First Lady of Venezuela, accompanying her father on state visits.
After his death in 2013, she maintained warm relations with heads of state including Cuba's Fidel Castro and Argentine president Cristina Fernández de Kirchner, and there have been suggestions that she will mount a campaign to become president after Nicolás Maduro steps down as president.
Earlier this year, Maduro named María Gabriela a deputy permanent Venezuelan representative to the United Nations.
Although the scope of her alleged wealth is much higher, allegations of her being rich aren't entirely new.
Last July, Venezuelan outlets reported that she was involved in a scheme that favored an Argentinean rice company, Bioart, by importing 37,000 tons of greatly overpriced rice to Venezuela – a deal that reportedly contributed $15 million to her personal accounts.
Shortly after the allegation surfaced, María Gabriela posted to her Instagram account a note to her late father saying, "They speak about millions, about inheritance, about riches … and the think they insult us. They're such simple beings that they have no inkling about the bigger riches that you always gave me and that you left me."
In September of 2014, according to La Tribuna, the Cuban-American television journalist María Elvira Salazar showed on the air a receipt purported to be from a U.S. bank account in María Gabriela's name that held nearly $737 million. The address on the account was that of the Venezuelan consulate in New York City.
The Chavista website aporrea.org claimed the receipt was "a fake from a fictitious bank."
Like us on Facebook