Huge South Korea Drill Likely to Infuriate North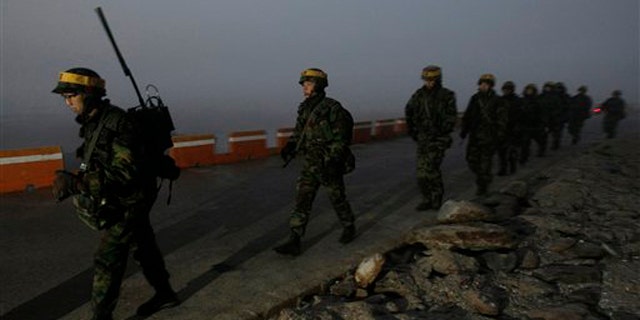 SEOUL, South Korea – South Korea announced on Wednesday land and sea military exercises including its largest-ever live-fire drill near North Korea in a big show of force just as tension on the peninsula was easing after Pyongyang's attack on a southern island.
The land drill, involving artillery, fighter jets and the largest number of personnel in a peace-time exercise, will take place on Thursday, after the South's live-fire artillery exercise on Monday on the island of Yeonpyeong, and is bound to infuriate the North.
South Korea is also holding three days of live-firing drills off the peninsula's east coast starting on Wednesday, a media official at the Defence Ministry said.
He would not provide details. Yonhap news agency said the drills were taking place 60 miles south of the maritime border with North Korea and involved at least six naval boats.
North Korea this week offered to re-admit U.N. inspectors concerned about its nuclear-weapon programme, leading to speculation of a resumption of six-party disarmament talks and a general sigh of relief around the world that the crisis had passed.
"Yes, it will be a show of force against that," an army officer said when asked if the shelling of Yeonpyeong island last month was a factor in the land drill's planning.
He said similar drills had been staged previously on more than 50 occasions, but the scale this time was unprecedented.
"The scale of mechanised assets taking place is enormous. When we would normally have 6 K-9 mechanised artillery, we'll have 36. We'll have the F-15 jets firing. We'll have choppers. You can say most of the mechanised assets taking part will be firing live ammunition."
It will take place in Pocheon region, less than 30 miles north of downtown Seoul.
The latest crisis peaked when North Korea shelled Yeonpyeong, just south of the disputed maritime border, killing four people -- including two civilians -- in the worst attack on South Korean territory since the end of the civil war in 1953.
The South carried out live-fire drills on Yeonpyeong on Monday, which provoked only a verbal reaction from the North.
It had vowed to strike back if the South went ahead with the drills, prompting fears of all-out war.
China, North Korea's only major ally, has urged dialogue to resolve the crisis and urged the North to follow through on its offer to allow U.N. inspectors into the country.
The Chinese Foreign Ministry had no immediate comment on the planned drill.
FAMILY RULE
Analysts say the North is unlikely to undertake another act of aggression like this year's attack on South Korea's Cheonan warship, blamed on the North by the United States and the South, and the Yeonpyeong shelling, at least in the near term.
Its most likely next move would be to conduct live-fire artillery drills or possibly a short-range missile test into its waters off the west coast.
Analysts have said its recent militaristic acts have served to bolster family rule as ailing leader Kim Jong-il grooms his youngest son, Kim Jong-un, as his successor.
The South's Joongang Daily said before the announcement South Korea should practice "nimble diplomacy" and forge a closer relationship with China.
"As long as there is a constant threat from the North to launch a surprise attack, we must be on high alert from a military perspective," the newspaper said.
"But such preparations should be combined with diplomacy. We should reduce our diplomatic dependence on the United States and strengthen our ties with China and Russia."
Finance Minister Yoon Jeung-hyun, also speaking before the announcement of the drill, said domestic financial markets had weathered the crisis and the South Korean economy, Asia's fourth-largest, stayed on a growth track.
But he warned that the tension could still dent consumer spending with a key sentiment measure due on Friday.
"Financial markets have been absorbing the North Korea risk without big trouble but we can't rule out consumer spending getting hurt," Yoon said during a weekly meeting of senior economic officials.
The won edged down slightly while stocks and bonds were stable as traders shrugged off the North Korea risk.
Traders said earlier that the currency was generally being affected more by concern over the euro zone.
Consumers and businesses in South Korea say they have lived with tension on the divided peninsula for decades and markets do not always react although the recent crisis had rattled global markets and remained an underlying risk.