How low can it go? Oil, gas prices in freefall as OPEC reels from US fracking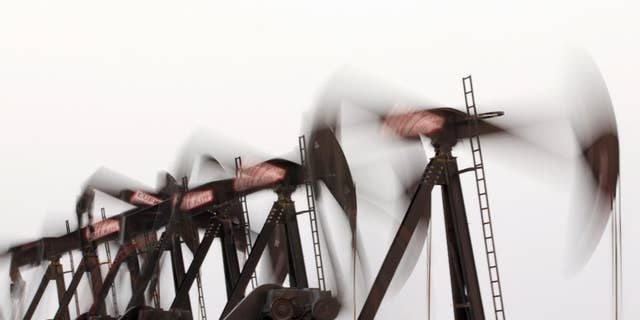 Drivers paying less at the pump due to free-falling oil prices can thank the U.S. energy boom for generating shale oil - and weakening OPEC's ability to keep the cost of a gallon of gas high.
In just a matter of months, the price of a barrel of oil has dropped from more than $100 to about $70, and gas is now cheaper than it has been in years. But a recent report conducted for the American Petroleum Institute claimed oil would cost twice as much as it does now if it weren't for America's fracking boom, which wrings oil and natural gas out of shale miles underground.
But the next question could be whether the fracking industry can survive the low prices it brought.
"The shale boom is on a par with the dot-com boom," Russian oil baron Leonid Fedun of OAO Lukoil told Bloomberg. "The strong players will remain, the weak ones will vanish."
OPEC, the cartel of oil-producing nations that has historically been able to calibrate the price of oil - and ultimately gasoline - by increasing or decreasing supply, announced Thursday that it won't fight the price skid by cutting production this time. That likely means prices will continue to fall, and the more costly production technique of fracking could become cost-prohibitive, say experts.
Drivers have benefited in recent months from the falling prices, the API study found.
"This reduction in petroleum product prices have saved U.S. consumers an estimated $63 to $248 billion in 2013 and estimated cumulative savings of between $165 and $624 billion from 2008 to 2013," stated the report.
OPEC decision to maintain a production target of 30 million barrels a day was seen as a reflection of its members view that the short term pain was necessary to pressure rival producers in the U.S., who need moderate oil prices to break even. Saudi Arabia, the leader of OPEC, appears to be hoping to drive prices below the level at which shale oil production is economical. Experts say shale oil production turns too costly at the $60 a barrel level.
BUt other OPEC countries may not be able to withstand the steady production and the falling prices it brings. OPEC members like Venezuela and Nigeria need levels close to $100 or above to fund national budgets. Saudi rival Iran is suffering, too, with the price drop adding to huge revenue losses due to sanctions on its crude sales imposed over its nuclear program.
And Russia's economy is in trouble, making falling oil revenues a problem there, as well.
"I think you're going to see additional tension between the OPEC ranks," said Jamie Webster, senior director of crude oil markets at IHS consultants.
In the U.S., gasoline prices are averaging $2.82 per gallon, the lowest price this time of year since 2009, according to the U.S. Energy Information Administration, which says the average U.S. retail regular-grade gasoline price has fallen 88 cents/gal since the start of July.
But in the U.S., consumers' joy at pump prices falling toward $2 a gallon will be tempered by fears the burgeoning economy in places like the Dakotas, Texas and Oklahoma could be hurt by the lower cost. The industry is credited with creating nearly 2 million jobs, a number projected to double by 2035.
"If prices don't recover soon this could be the beginning of the end of the Great American oil fracking boom," Forbes' Christopher Helman recently wrote. BIgger energy companies with money of their own to invest might be able to ride out the dip, but smaller, highly-leveraged oil and gas companies will have problems, he said.