How a controversial Palestinian leader justifies paying aid money to families of terrorists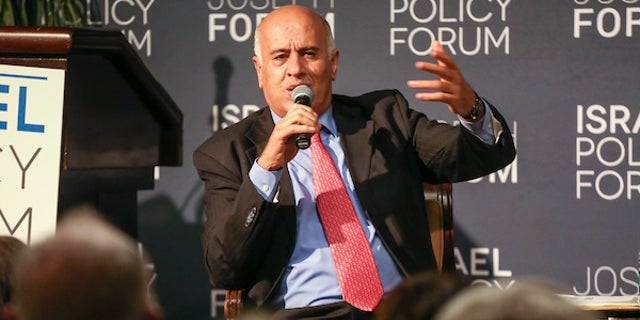 NEWYou can now listen to Fox News articles!
A top Palestinian Authority (PA) leader, visiting the U.S. to participate in a New York City meeting of the Israel Policy Forum, defended giving money to the families of Palestinian jihadists who kill Israelis.
Jibril Rajoub, secretary general of the PA's Fatah Central Committee and widely seen as the next PA president, said his government has a duty to assist all their people, including families of those who die in attacks on Israel.
"We have a system, a social responsibility to the families of prisoners, no matter why he is in jail," said Rajoub, who is viewed by many as a terrorist himself.
The issue of giving money to the families of "martyrs," as Palestinians who die attacking Israel are called, is a sore point for both the U.S. and Israel because of the money they give to PA. Both the U.S. and Israel provide significant funding to the PA so it will not collapse and, thus, create a massive refugee problem for the Jewish state.
At the same time, Israelis find it galling that the PA's financial gifts go disproportionately to families of deceased jihadists.
"The PA cannot survive economically without external assistance. Israel does not want to see the PA collapse. If they collapse, they collapse on us," said Brig. Gen. (res.) Michael Herzog, a leading member of Israel Prime Minister Benjamin Netanyahu's negotiating team and a security expert for The Washington Institute for Near East Policy.
"But at the same time, there is a real concern about the money they provide to families of convicted terrorists. Over $300 million a year goes to these families. The worse the crime, the more money they give. This is incentivizing terrorism."
The U.S alone gave an estimated $133 million in aid to the PA last year.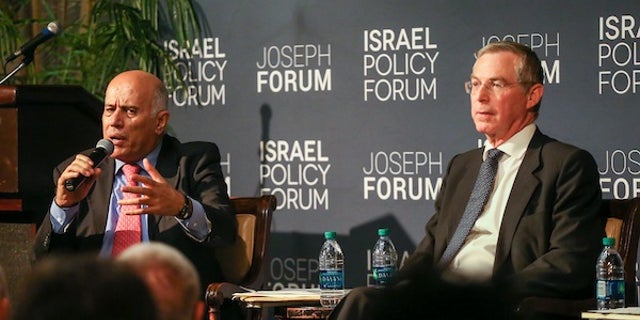 Rajoub himself has been accused of promoting Palestinian terror for years and most actively during the 2015-2016 terror wave that led to the death of dozens, including four Americans. He has repeatedly referred to those who murder Israelis as heroes and martyrs on Palestinian television.
Despite this, Rajoub insisted during the New York meeting that as soon as a peace treaty is signed, the payments will cease.
"Ending the conflict is ending the demand," he said.
And while both sides at the forum remained steadfast that a two-state solution is the only way forward – a resolution to the decades-old conflict is still plagued by skepticism.
Rajoub insisted that the PA and other outside Arab countries will work together to convince Hamas, the U.S.-designated terrorist group that controls Gaza, that they must adhere to a two-state, nonviolent agreement. Yet Herzog remained somewhat less optimistic about the Islamist organization.
"I don't see anything new when it comes to their [policy] on Israel," he said. "They [still state that] they will never relinquish their claim to all Palestine, historical Palestine – not only the 1967 borders – and they will never disavow what they call armed struggle and we call terrorism. And they demand the right of return for all the refugees, and will never recognize Israel."
Nonetheless, the Trump team's willingness to engage more actively in the issue - in contrast to the Obama administration's disengagement - was welcomed by both Rajoub and Herzog.
EGYPT TERROR ENSNARES ISRAEL AS SINAI BORDER CROSSING CLOSED
GAZA'S HAMAS RULERS EXECUTE 3 PALESTINIANS OVER ISRAEL TIES
And despite unsuccessful efforts from terror victims' families and activists in Israel to have Rajoul banned from even entering the U.S., his visit was not without some resistance. On arrival at JFK airport last Wednesday, he was slapped with a $250 million civil lawsuit over his alleged participation in the torture and death of Palestinian-American Azam Rahim man 22 years ago.
Filed by Rahim's family in their home state of Texas, the suit claims Rajoub – who then served as head of Palestinian security in the West Bank – played a prominent role in arresting him under the presumption he was a rich American, but was tortured to death when he refused to pay.
Rahim is survived by a wife and six children.