Houston mass shooter identified as troubled Army veteran from California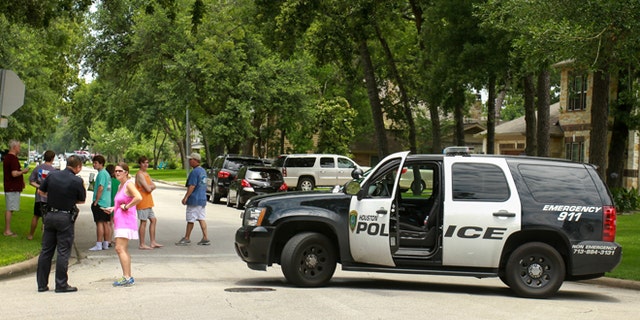 The father of an Army veteran who allegedly went on a shooting spree Sunday inside a Houston auto shop said that his son suffered from PTSD and had delusions about society collapsing.
"We have not received confirmation, but I strongly suspect. I really believe this is a PTSD thing," the father of 25-year old Dionisio Garza III told local media.
Garza's father said his son – an Afghanistan war veteran - had become troubled over the last few months and decided to travel to Houston to meet with others who believed the United States was on the brink of economic collapse.
"On the internet he met some people or some people that believed like him," Garza's father said. "He said: 'It's better to go to Texas.' He was trying to get us all to go over there and you know go live in a compound. That kind of talk, you know? That wasn't my son."
Garza's father said the last time he spoke to this son was a day before the shooting and that he missed the signs that his son was about to do something drastic.
"You know he was rambling off about the economy collapsing, you know. And that something was going to happen by Monday, that kind of stuff. Of course, you look back now and there were signs. There were signs," he said.
Police, who said they have no indication yet of a motive yet, said they got their first call about the shootings around 10:15 a.m. Sunday. A minute or two before Garza allegedly came in to the auto detail shop and started shooting. Others in the shop ran out to take cover and call for help.
Several people were shot and injured, including a man authorities initially described as another suspect because he was present and armed. Police said later Sunday they were investigating further whether he played any role.
Three others — two of them male and one female — were hospitalized with injuries that police said were not believed to be life-threatening. Two officers who were shot were released from the hospital later Sunday.
Neighbors described hearing many gunshots, and some of the victims taken to the hospital were shot while driving their vehicles. Police say they believe a fire at a gas station next door began when gunfire hit a pump. At least three police vehicles were damaged by gunfire, one of them struck 21 times, and a police helicopter was shot at with a "high-powered" weapon and was hit five times, authorities said.
Stephen Dittoe, 55, lives in the house right behind the shooting scene, separated by a fence and tall shrubbery at the end of cul-de-sac.
"I heard the first shot and I thought it was a transformer" exploding, he said. His wife, Ha, 41, said it went on too long for that and described the series of staccato sounds.
She took their two children, ages 6 and 7, into the bathroom, told them to eat breakfast in there, and called 911.
About an hour after the shootings began, a SWAT officer killed Garza, said Police spokesman John Cannon.
"If he hadn't taken that action that quickly, this likely would have been a lot worse than it was," Cannon said.
Police were able to identify Garza by a combat-style backpack left at the scene and inexplicably only recovered on Monday.
Among the contents of the backpack were bullets and Garza's birth certificate.
The Associated Press contributed to this report.
Like us on Facebook
Follow us on Twitter & Instagram