Housekeeper killed in D.C. slaying was planning to retire soon in El Salvador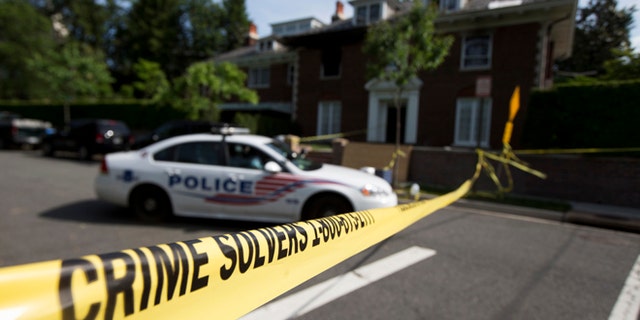 NEWYou can now listen to Fox News articles!
By all accounts, Veralicia Figueroa was a sweet, mild-mannered woman whose dream was to save up enough money so that she and her husband could retire in her native El Salvador, where her grown children live.
That dream, however, was abruptly cut short last week when Figueroa was brutally murdered in a Washington D.C. mansion, where she worked as a housekeeper, along with the home's corporate executive owner, his wife and their 10-year-old son.
Firefighters found their bodies when they responded to a fire at the family's house May 14. Authorities believe the fire was intentionally set.
And while police search for Daron Dylon Wint, the former Marine and ex-convict suspected of murdering the four people in Washington D.C., Figueroa's family – both in the U.S. and in El Salvador – are struggling to deal with the reality that the vibrant, loving woman they knew is dead.
"All I can say is I'm very sad," Bernardo Alfaro, Figueroa's husband, told The Washington Post. "I don't want to do anything."
Figueroa moved to the U.S. in 2002 on a tourist visa – after suffering through El Salvador's 12-year civil war in the war-ravaged town of Suchitoto, and then a failing marriage that left her and her two children in extreme poverty.
"There was no money coming in," her son, Néstor Ulises Rivas, a maintenance engineer at an international products company in San Salvador told the Post. "There was nothing for food."
After working a host of jobs, Fugueroa landed a position as a house cleaner for millionaire Savvas Savopoulus, his wife, Amy, and their three children. Figueroa would frequently send boxes of children's clothes given to her by the Savopoulos family – or would sometimes buy new ones – and would ship them to her hometown to be given out to impoverished children.
While she was in Washington she fell in love with Alfaro, who she had known in El Salvador. They married in 2008, moved into a home in Silver Spring, Maryland, and would send $100 a week back to El Salvador.
As her children finished college and the housekeeping work began to take a toll on her, Figueroa began making plans to move back to El Salvador.
"She was feeling a lot of stress" from her job, Gutierrez said. "She said, 'I'm not going to spend the rest of my life in this country.' "
With the money she sent to the country, her children bought a house for her in a safe neighborhood on the outskirts of San Salvador. But she died before reaping the rewards of all the good she did in her life.
"My mother left a great mark on many people's lives," Rivas said. "Many times, she'd see people in the street and give them money for food."
Police were searching Thursday for Daron Dylon Wint, 34, who may have friends and family in the Brooklyn area of New York and was seen there Wednesday night, authorities said. Wint is being sought on a first-degree murder charge.
"Right now, you have just about every law enforcement officer across the country that is aware of his open warrant and are looking for him. Even his family has made pleas for him to turn himself in," D.C. police Chief Cathy Lanier said.
Investigators believe Wint, a certified welder, worked for Savopoulos' company American Iron Works in the past. Savopoulos was the CEO of the company, a construction-materials supplier based in Hyattsville, Maryland, that has been involved in major projects in downtown Washington.
"For residents of the district who are rightfully scared and want answers as to why and how this family may have been involved, we want to give you as many answers as we can," Lanier said. "What we can tell you right now is that we do believe there is a connection between the suspect in this case through the business. So right now it does not appear that this was a random crime."
The Associated Press contributed to this report.
Like us on Facebook
Follow us on Twitter & Instagram